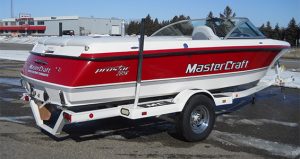 Now that boating season has come to an end, it's important to look over your boat for any issues or problems it may have. Whether you wanted to wait for boating season to come to an end or you just noticed an issue that your boat has, now is a fantastic time to restore your boat and get it ready for next spring. At Anchor Marine Repair, we can do just that for you! We are here for all of your boat restoration needs. Whether you need a complete renovation or a simple paint job, Anchor Marine Repair is here to help.
Boat Restoration
Painting is something that will need to happen no matter how well you take care of your boat. If you use your boat at all, scratches, dings and fading are going to happen. Otherwise, what would really be the fun of the boat? Painting a boat is not a DIY at home job. It's very clear to see when a boat has not been appropriately painted. Truthfully, the preparation of the painting is the most important part. Properly preparing the boat will lead to longer lasting, cleaner paint lines that hold up and give you the look that you have been searching for. Painting makes a large difference in the appearance of any boat and updating your paint during the off-season is the perfect time to do it!
Updating or Restoring your Boat Deck
No matter how well your boat may run on the water, the shabby look of your deck and transom will do you no favors. Just like common wear on the paint of your boat, your deck sees a lot of action and a lot of sun. At Anchor Marine Repair, we want to bring it back to life. Restoring your teak, renovating a helm, redoing the cockpit…it's what we live for! Making your boat both structurally and cosmetically sound brings our team job and makes you feel great and confident out on the water. Whether you are needing a wood floor refinishing, new upholstery on your seats, or repairs and replacements on any part of your deck, we've got you covered.
Don't let your boat sit in storage this year and get worse. Get yourself and your boat ready for boating season next spring. There's nothing like dropping your gorgeous boat back into the water and awing once again at its beauty. For more information about our boat restoration services, give us a call today. Call Anchor Marine Repair at (763) 972-3540 or send us an email at service@anchormarinerepair.com.