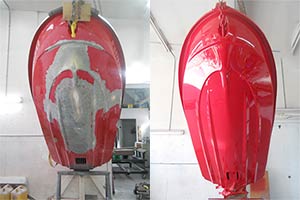 At Anchor Marine Repair, we are your one-stop repair shop for all of your boating needs in Minnesota. As boating season gets underway, your boat may be looking a little drab. Paint can go an extremely long way for a boat. If your boat is begging for a refreshed look, do something about it! At Anchor Marine Repair, we specialize in boat painting and restoration. We aim to get your boat in and out, so you can get on with really enjoying your boating season.
Boat Painting Expertise
Our technicians here at Anchor Marine Repair are no spring chickens. With over 45 years of combined experience in boat repair and renovation, your boat is being painted by the best of the best. We are committed to using only the biggest boat painting products available on the market, and we are always staying abreast of the latest technologies and techniques in boat painting and renovation. We have both a 42 and 48 foot spray booth for our boats, allowing us to accommodate boats up to 38 feet in length. When your boat needs to be repainted and serviced, our team of experts is here to help you.
Marine Boat Painting
Painting a boat is no easy task. It is a rather complex process with lots of grey areas that cannot be looked over. For instance, painting a fiberglass boat is slightly different than painting a wood boat. Additionally, painting the boat hull is a different technique versus painting the boat bottom. Even more so, perhaps you want to paint the non-skid area of your boat. How do you know what type of textured compound to apply? At Anchor Marine Repair, this is not our first rodeo. We believe that the most important steps taken in painting a boat is the prep work. From removing all hardware and repairing the surface imperfections to washing, dewaxing and sanding, we've got the prep work covered. All of our boat painting services go through our prep process, receive primer, paint and then wax to protect the new paint job.
Not only are we committed to a beautiful, new paint job, we want to ensure that your boat painting service leaves your boat looking brand new. Customers rave about our passion, affordability and most of all, the quality end result that we provide. Estimates and consultations for our boat painting services are always free. For more information about our boat painting services in Minnesota, give Anchor Marine Repair a call today at (763) 972-3540 or send us an email at service@anchormarinerepair.com.