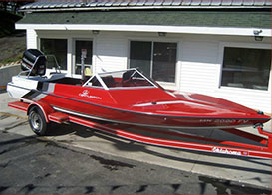 During the holiday season, it's easy to get wrapped up in the process of shopping and spending money on others, but don't forget about yourself! If your boat needs restoration work or a good cleaning, what a perfect gift to give yourself! Let the professionals at Anchor Marine restore your boat to its original luster. Here are some things to consider when planning for a boat restoration:
Sometimes when people decide to have their boats restored, not everything needs to be updated. You will want to take a good look around and inspect your boat to help you determine what changes you will make. Whether it is something as small as changing the color of the boat and the seats, or making repairs to the hull or trailer, you will need to know what you will be restoring.
What Is Your Budget?
Like home renovation, boat restoration can be costly. After looking at your boat and determining what you wish to restore, it would be helpful to figure out how much you would like to invest. Having a budget allows you to consider material choices and make better decisions to get the work done that you want, without breaking the bank.
Will You Hire A professional?
When it comes to boat restoration, a lot of people will attempt the restoration work on their own. While this can benefit you, depending on the restoration work to be done, it may be wisest to hire a professional. By doing so, you can be sure that work is completed properly and professionally, and the results will be what you expected, if not better.
What Is Your deadline?
It is always important to be realistic about a boat restoration when it comes to a deadline. For example, if you have a desire to be on the water in two weeks, it may be wiser to schedule your restoration work for a later date. Should you hire a professional, be sure to discuss your deadline to ensure it is realistic.
Rather than docking your boat for the winter, use this time to get your boat in better shape for your next season on the water. Anchor Marine Repair can take care of all your refinishing and repair needs and pick up and deliver your boat to your home or dock so that you do not have to worry about transporting it. Call (763) 972-3540 for more information or to schedule an appointment! Give yourself the gift of a fully restored boat this holiday season!