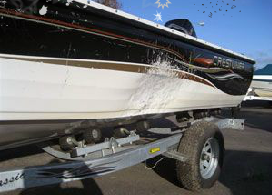 Your boat is one of your most prized possessions.  When something happens and your boat sustains any damage, it is important to get it repaired quickly and by a team that you trust.  Anchor Marine Repair is the leading boat repair company in the state of Minnesota and serves the entire Brainerd, MN area.  Our team is as passionate about boats as you are — and will put that passion to work and get your boat back on the water as soon as possible.  We can complete repairs after storm damage, normal wear and tear, and can complete renovations to keep your boat looking its best.
Expert Boat Repair, Refinishing And Refurbishment
Our team can complete repairs on your fiberglass, aluminum or metal flake boat.  We have experience repairing extensive damage from storms, collisions, docks, or rocks and are happy to work directly with your insurance company to file and follow up on claims.  We also understand that you use your boat regularly, and this can cause normal wear and tear over time.  Whether the repair is small or large, Anchor Marine Repair can help.  We specialize in the following:
Structural boat damage
Wood floor refinishing
Transom replacement
Top replacement
New upholstery
Leaking rivet repair
Boat trailer repair
#1 Minnesota Boat Repair Shop
Anchor Marine Repair makes it easy to partner with them on your boat repair.  No need to worry about driving your boat to our Delano, MN repair shop — our team will come to you.  We will pick up and deliver your boat of the Minneapolis/St. Paul area.  In addition, our state of the art repair facility with two buildings that combines for 10,000 square feet of space that can accommodate boats up to 38 feet in length with a 42 and 48 foot spray booth.
Our boat repair experts have a combined 45 years of experience in boat repair, renovation and refurbishment experience. Your boat could not be in better hands.  We use only the highest quality boat repair products on the market, and our repair team has extensive skills and experience.  We guarantee that our repair will exceed your expectations and will not break the bank.
So, if you have concerns about the condition of your boat or would like to take the opportunity to complete a renovation project, call Anchor Marine Repair today at (763) 972-3540 and schedule a time that you want for us to pick up your boat!