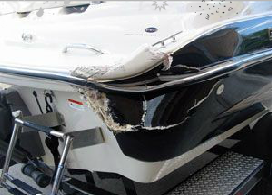 Spring is finally here! Boaters all around Minnesota are pulling back their boat covers and cleaning off their precious beauties to prep them for the water this upcoming boat season. Unfortunately, boat damage can happen anytime, including while your boat is being stored. If you've taken your boat out of storage and noticed damage or engine failure, it's time to call the best in the business, Anchor Marine Repair.
Our Boat Doctors

Fixing boats is not just our job, it's what we love to do! Our passion for boats has earned us the top spot when it comes to boat repairs, renovations and refinishings in Minnesota. Every one of our technicians on staff has been with our company for over 10 years and we offer a combined 45 years of experience to our customers looking for someone to take great care of their boat. We stay up to date on the most current technologies and techniques within boat renovation and refurbishing so that we can offer you the best quality service around.
Boat Repair Services
At Anchor Marine Repair, no boat is unsalvageable. Whether it's a small dent on the front or a large amount of structural damage, we have everything we need to get it up and running again! Our technicians, equipment, facilities and overall experience all work together to get your boat looking like new again! We want to see your boat back on the water as soon as possible! Therefore, we also have working relationships with parts and product suppliers that insure a fast delivery of everything we need to restore your boat properly! Some of our services include:
Structural Boat Damage
Wood Floor Refinishing
Top Replacement
New Upholstery
Leaking Rivet Repair
Boat Trailer Repair
So what happens if the problem is so large that you can't get your boat to our facility? This is not a problem! We are pleased to offer pick-up and delivery from your home, dock, or marina if it's. Located near Lake Minnetonka, our two building facility offers over 10,000 square feet of working space! It is in this state-of-the-art facility that we can accommodate boats as large as 38' in length!
So, if you live in the state of Minnesota and you are ready to get your boat back on the water, don't wait to repair it! Call Anchor Marine Repair today and let us take care of your prized possession! Call us today at 763-972-3540.