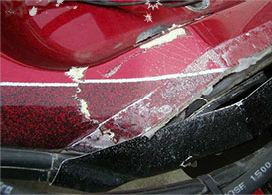 The days are finally getting longer and warmer, and because we have been tormented by a very long and cold winter, boat owners are itching to get back on the lake for some fishing and to bathe in the sun's light.
If your boat has been sitting in storage all winter long, it may be in need of repair or touch-up services. Even if you don't physically see anything wrong with your boat right away, there may be hidden repairs that can affect the way your boat runs. At Anchor Marine Repair, we offer full service boat repair, specializing in fiberglass repair, metal flake repair, and aluminum boat repair for collision, structural, and storm damaged boats. We also specialize in motor and trailer repair services and maintenance as well. We guarantee that your boat will run and feel better than the first day you got it!
Some of the boat repair services we offer include:
Our repairs include minor and major cracks, dents and abrasions caused by collision, storm damage, or just normal wear and tear.
Wood Floor Refinishing
Our professional crew will sand off the old stain and re-varnish your wood floors using a special technique to avoid any bubbles to ensure a smooth texture and look.
This is the process of replacing a rotted and water saturated transom. We will cut away the interior fiberglass layer and bond in a new plywood core while re-laminating the interior transom wall.
Top Replacement 

Which includes the repair of tops, snap covers, travel covers and enclosures of any kind.
New Upholstery
From a new bimini top or canopy for your pontoon, to the replacement of seats, furniture, and other accessories for your ranger, we can do it all.
Leaking Rivet Repair
Eventually, the rivets keeping aluminum boats held together will loosen or break. We will remove the old rivet by filing, grinding or drilling, and install new ones.
Boat Trailer Repair
We offer a wide selection of boat trailer repair parts and accessories to choose from for your next boat repair service.
Anchor Marine Repair is proud to announce that we are #1 in boat repair in Minneapolis. Using a higher standard of quality and quicker turnaround time than the dealerships, we can get your boat back out on the lake in no time! If you have any questions about boat repair services, call our office today at 763-972-3540!