Is Your Boat Ready For The Minnesota Fishing Opener?
The Minnesota fishing opener is just days away, and local anglers are busy getting ready.  It's the weekend many fishing enthusiasts have been waiting for.  Minnesota's fishing opener officially kicks off at midnight. It looks like it's going to be a great weekend for fishing.
As Angler and boaters are getting ready and making sure their rods, reels and lures work, don't forget to inspect your boat?
Is your boat and trailer ready?  Too often at this time of year boaters get their rig into the water and find themselves dead in the water after being out for just a few minutes. Don't be one of them!  Make sure that ALL aspects of your boat are in working condition so that your opener experience is a positive one.
Check for major cracking, gouging, nicks, or structural damage. This damage can also be caused by major impacts or serious abrasions. Look for soft spots.  Soft spots in the fiberglass body of a boat can become a serious problem if not repaired right way. A soft spot in fiberglass can be caused by poor initial application or because of overexposure to sunlight. Over time, sunlight can damage fiberglass if the conditions are right.  Fiberglass can be repaired fairly easily back to original strength if done properly.
Check to make sure all of your trailer lights are working. Chances are many Minnesotans will be on their way to the lake/river in the dark.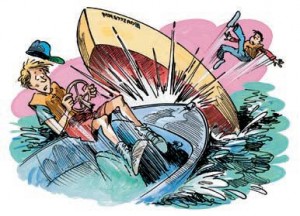 Make sure the wiring on your trailer is up to par.    Brake Lights?  Running Lights?  Tires in decent condition?  Air pressure?  Losing a tire at night can be extremely dangerous. The lights on the trailer may work fine, but they are not always the brightest… so traffic coming from behind may not be able to correctly make it out in time to avoid an accident.
You've spent weeks dreaming about getting your boat back in the water.  Make sure your boat is ready to go?  Some of the things you may take for granted once the season is under way have a way of getting run down during those months of inactivity.
For very small scratches, a touch-up kit might fix it to where it's not noticeable. When dealing with a good-sized spot, however, consult with a Minnesota boat repair company
Fishing Opener: Boaters, Anglers Need To Know The Rules
If you're fishing this weekend in Minnesota, you need to read the regulations and check to see if your waters have special rules.  Minnesota DNR is cracking down this fishing season on boaters who spread unwanted hitchhikers. The reason behind these laws is to stop the spread of invasive species such as zebra mussels and Eurasian watermilfoil and spiny water fleas.
As the season opens Saturday, the fight to prevent the advance of aquatic invasive species will include roadside inspections and decontamination of infested boats. Checks last summer indicated that nearly one in five boaters failed to comply with the rules. Violators are more likely to be ticketed than ever before.  DNR will be conducting roadside inspections and violators could be ticketed for this. You can expect check stations on both public and private waters. Citations range from $50 to $1,000, and many of those fines will double starting July 1st.
Minnesota DNR Invasive Species site: Click Here
This might be a surprise to some: You do not need to display an aquatic invasive species sticker on your boat. Technically, it's still the law, but lawmakers and the governor agreed to repeal that requirement July 1, and DNR officials won't enforce it between now and then.
The Minnesota Legislature repealed a requirement that watercraft display an aquatic invasive species (AIS) information sticker to avoid confusion when provisions of a new law go into effect in 2015. Although no longer required, placement of stickers on boats is still encouraged as a reminder about important AIS information.
The free decals are available at many bait shops, boat dealers, motor vehicle and DNR offices. You will get the decal when renewing any license as well.
One part of the decal goes on the watercraft, another will be stuck on the trailer. Right now, there is no penalty for not displaying the decal. After August of 2014, the violation will be a misdemeanor.
Whether you catch a fish or don't catch a fish, have fun, follow the law, and most of all, be safe!