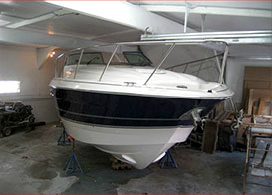 No matter what time of the year, if you are a sailor or fisherman, having your boat in working order is a life or death situation. There is no place like the water! For those that love the water and are lucky enough to own their own boat, it is extremely important to take care of it! Boats can be fragile and, if not taken to the right place, a repair can be costly! Don't let money sucking manufacturing companies steal your money! If your boat is in need of a renovation or repair, trust Anchor Marine Repair to get the job done right the first time!
The Importance of Boat Repair
Accidents happen. There are over 867,446 registered boats in the state of Minnesota so even the most experienced boaters can have an accident. During the winter and summer months, harsh weather conditions can cause boats to have many problems that may need to be addressed quickly! When any damage occurs to a boat, it's extremely important to repair the damage and seal out the moisture. This protects the boat from further damage that would otherwise ensue if left unattended!
About Our Minnesota Boat Repair Shop
Anchor Marine Repair has been the #1 boat repair shop in the Minneapolis, MN area and has over 45 years of boat repair, renovation, and refurbishing experience! Each technician on staff has been with the company for over 10 years and is fully prepared to tackle any need that you may have when it comes to your boat! We have over 10,000 square feet of workspace within two buildings so that we can accommodate both large and small boats. We can house boats up to 38 feet in length and have a 42 and 48 foot spray booth for those looking to renovate. We offer free estimates and consultations for anyone looking to have work done on their boat! Whether it's repairing a boat after a collision or storm damage, Anchor Marine Repair has you covered! We also offer pick up and delivery of the Minneapolis and St. Paul areas. There is no excuse not to call us today!
Boat Repair Services Provided:
Boat Repair
Boat Renovations
Aluminum Boat Repairs
Pontoon Repair
Yacht Repair
Cosmetic or Structural Boat Damage
Boat Trailer Repair
If you are in need of boat repair and live in the Minneapolis, MN area, please call us today at 762.972.3540.