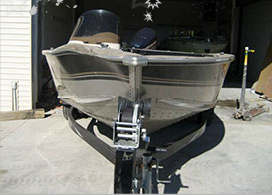 MIstakes can happen. Whether it is on or off the water, boating accidents occur all the time. The only thing worse than having a boat damaged in an accident or storm, is having that same boat sit at your home or marina for several years without getting it fixed. If you are a boat owner that is looking for someone to repair or renovate your boat, look no further than Anchor Marine Repair.
Experienced Boat Repair Crew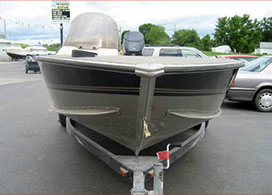 Located in Delano, MN, we serve anyone in need of boats repairs and renovations. We are the number one Minneapolis boat repair service and we look forward to working on your baby soon! All of our technicians take pride in what they do. Every single person on our team has been with us for over 10 years and we make up a combined 45 years of experience in boat repairs, renovations, and refurbishing. Boats are our passion and we are constantly looking for better ways to repair your boat and give it back in better condition than it was before the accident ever took place. For this reason, our technicians stay up to date with the most current technologies and techniques for boat renovations.
Our Boat Repair Facility
In order to best serve the state of Minnesota and surrounding areas, we knew we would have to have a great facility. We are proud to own a two building facility close to Lake Minnetonka. With over 10,000 square feet of working space, we are sure that we can accommodate any boat up to 38' in length. If your boat is broken down or your trailer is not functioning properly, don't worry. Our professional team at Anchor Marine Repair will pick-up your boat from your dock, home, or marina for free! We offer this to anyone of the Minneapolis/St. Paul area.
Boat Repair Services
We understand that it's boating season. So, we do our best to get your boat in and out of our facility as fast and safely as possible. We have the right technicians, equipment, and facilities so that we can quickly work to get your boat looking like new again. Some of our boat repair services include:
Structural boat damage.
Wood floor refinishing.
Top replacement.
New upholstery.
Leaking rivet repair.
Whatever the reason that your boat is broken down, Anchor Marine Repair is here to help. If you live in Minnesota, call us today for a free estimate at 763-972-3540.