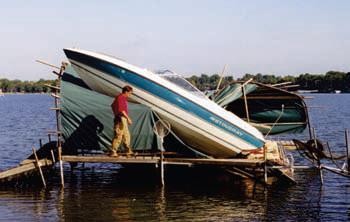 At Anchor Marine Repair, we are proud to be your number one boat shop for storm and collision damage repairs. Every year, we see boat owners distraught about the damage that was done to their boat during a storm. Unfortunately, there is truly no way to prevent storm damage from happening sometimes. Even if you store your boat indoors, mother nature has a way of changing up our plans. While no one wants or expects their boat to be damaged in a storm, it's comforting to know that Anchor Marine Repair is here for all of your one stop storm damage repair shop needs. If you need boat repairs after a storm in MN, give us a call.
Assessing the Damage
One of the most frustrating parts about having storm damage to your boat is that you may not always know what's completely wrong. Rest assured, our experts here at Anchor Marine Repair can figure that out in a jiffy. We offer free consultations and estimates for any storm damaged boat and even offer pick up and delivery. When we take your boat in to assess it, we will quickly evaluate the damage and get right back to you. Best of all, our shop is an insurance approved boat repair company that will work with you and your insurance to get you back on the water as quickly as possible.
Quality Repairs
At Anchor Marine Repair, we like to think we are number one in collision and storm repair for a reason. We love what we do, and we take pride in restoring damaged boats to even better condition than when they first had damage. Our skilled and experienced technicians have all been with us 10 years or more and we have over 45 years of experience in storm repair combined. However, we believe that staying knowledgeable and fresh on all things boat related is important. Our team is educated and equipped with the most current technologies and techniques on the market and we use only the finest boat repair products around.
When it comes to your boat, quality and affordability is extremely important. If you have been searching for a place that offers quality boat repairs after a storm, look no further than your expert technicians here at Anchor Marine Repair. For more information, give us a call today at 763-972-3540 or send us an email at service@anchormarinerepair.com.