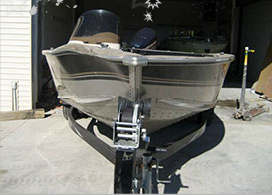 It can happen in a snap. One moment you're beautiful prized possession is parked right outside in front of your driveway and then BAM…a snow storm blows through and lands right on your beautiful boat. Whether your boat was damaged on the water, on the trailer, or in storage, Anchor Marine Repair can help you to not get mad…but to get even!
Who Needs Lemons?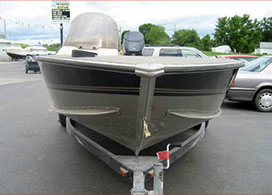 We're pretty sure that your boat was never a lemon. Your boat is a beautiful vehicle that keeps you afloat on the water. So when it's damaged, the last thing you are thinking about is "the bright side" and "making lemonade." Fortunately, Anchor Marine Repair can help! We aren't here to stir your lemonade, either! We like to use the phrase, "don't get mad, get even!" Now, we aren't saying that we will find the person that collided with your boat and we certainly aren't going to point fingers at mother nature (she can get real cranky this time of year), but we are saying that we are going to fix your boat and make it even better than what it was before the accident ever happened! Boo-yah! Anchor Marine Repair is your one stop repair shop for all of your boat repair needs. We have over 45 combined years of experience when it comes to boat repairs and each one of our boat technicians has been on our team for at least 10 years. When disaster strikes on your boat, we are the first people you should call!
Repairing Your Beauty
We know that your boat is important to you, and that's why we do everything in our power to restore your damaged boat to better than pre accident condition! We perform any and all types of boat repairs. Some of our more common boat repairs include:
Structural boat damage
Wood floor refinishing
Transom replacement
Top replacement
New upholstery
Leaking rivet repair
Boat trailer repair
Need your boat repaired but you don't feel like you can get it here? Not a problem, we offer pickup and delivery from any home, dock or marina. Once your boat has arrived at our 10,000 square foot facility, we strive to give you the fastest turnaround time available to get you back out on the water as soon as possible!
If you need your boat repaired, there is no better place than Anchor Marine Repair. Don't get mad at the situation, just get even! Let Anchor Marine Repair help you get your boat looking better than ever – just in time for boating season! For more information, give us a call today at 763-972-3540.