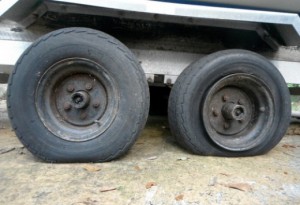 When most people think of boat repair, they often overlook one of the most important aspects of the boat — the trailer. Your boat trailer makes it possible to get your boat to and from the water to your home or storage unit. It is arguably one of the most important pieces of the boat, as it provides transportation and protection on land. Without it, your boat will not make it into the water. So if your boat trailer is damaged and in need of repair, Anchor Marine Repair should be the first and only repair shop you call in Minnesota.
Boat Trailer Maintenance
To avoid this problem entirely, it's a great idea to bring your boat trailer into the shop for some much needed routine maintenance. Basic preventative maintenance can help you to avoid costly repairs and inconvenient breakdowns. Why is your boat trailer likely to be damaged? Every time you are putting your boat into the water, you are submerging the trailer into it too. Rust and corrosion play a large role in causing problems for your trailer, especially when it is being submerged in salt water. Wobbling wheels, noises when traveling, and even loose springs and bolts, are all signs that it is time to get your trailer checked.
Boat Trailer Repair Services
Whether you are looking to have your boat trailer in for maintenance, or it is damaged and needs major repairs, we can help. If you feel like it's unsafe to travel with your trailer, don't! We will travel anywhere of the St. Paul/Minneapolis area. We provide a complete spectrum of services for boat trailers including:
● Tire Mounting and Balancing
● Service Repair
● Routine Axle Maintenance
● Accident Repair
● Restorations
● Lighting and Wiring
● And so much more!
Our technicians at Anchor Marine Repair go to great lengths ensuring that your trailer is in perfect condition to safely hold your boat for many, many miles.
The last thing you want is to have both you and your boat broken down on the side of the road, or worse – damaged on the side of the road. So whether you are looking to schedule maintenance on your boat trailer, complete repair, or build a trailer that fits all of your wants and needs, Anchor Marine Repair is the only shop for all of your repair needs. If you live in Minnesota, Anchor Marine Repair has got you covered. Give us a call today at 763-972-3540 or email us at service@anchormarinerepair.com.