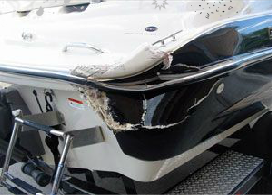 Over time, the exterior of your boat can develop significant wear and tear. Made primarily out of fiberglass, this material can hold strong against minor debris and weathering, however there may be times where your boat dings up against the dock or hits something in the water that shouldn't be there. At Anchor Marine Repair, we understand that you treat your boat almost as if it is one of your children, and you take pride in its look. If you are looking for St. Paul fiberglass boat repair services, Anchor Marine Repair has you covered. Put your trust in the number one boat repair shop in the area!
Take Care of your Boat
Just like a car, a boat loses value instantly, once it is taken off the lot. So, it is very important that you apply the proper maintenance on your boat to help keep the value of your purchase up. Too many times, we see nice boats entering the shop that simply are not taken care of properly. If you want your boat to be around for the long haul, regular care and maintenance is key. That's where our team comes into play. Common issues that cause your fiberglass boat to breakdown include:
Temperature Changes
Excess Sunlight
Cycling from Wet to Dry
Pollution
Rodents
Debris
Heavy Storms
Experienced Team of Professionals
By teaming up with Anchor Marine Repair for your fiberglass boat damage restoration needs, you will be partnering with a team that has more than 45 years of combined experience. Each specialist has been on staff for at least 10 years. Additionally, we make it easy on our customers by offering pick up and drop off services as long as you are of the St. Paul or Minneapolis area. Our 10,000 square foot facility allows us to tackle multiple boat repair projects at a time, enabling you to get back out on the water quickly! We specialize in fiberglass repairs and restoration as well as matching your boat's gelcoat finish.
Now is the time to schedule your boat to have a fiberglass makeover. If your boat is in need of fiberglass repair or standard maintenance, Anchor Marine Repair is the team for you. Let us help maintain the value of your boat! If you live in the St. Paul, MN area, give us a call today at (763) 972-3540 to set up a free estimate and consultation.