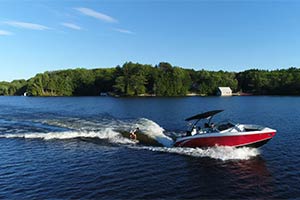 Minnesota: The Land of 10,000 Lakes. Minnesota is known for its lakes, 14,380 to be exact, so you can expect to find plenty of spaces to boat and/or fish! Fishing has long been considered a favorite pastime of Minnesotans. Around the Delano area, there are several lakes that are known for great fishing and boating.
Lake Rebecca: Grab your rod and fishing license and try to catch tiger muskies, largemouth bass, walleyes and panfish in Lake Rebecca. Two fishing piers are available – one located in the northwest bay of the lake and the other near the swimming beach. Set off upon the tranquil lake, by boat if you prefer. Electric trolling motors are allowed, but no gas boat motors, or wakes are allowed. Car trailer spaces are available on the northwest end of the lake. A daily or annual boat trailer pass is required.
Lake Sarah: Lake Sarah is a 553-acre lake located approximately 24 miles west of Minneapolis in west central Hennepin County. Fishermen will find a variety of fish including perch, black bullhead, northern pike, largemouth bass, panfish, smallmouth bass, pumpkinseed sunfish, crappie, bullhead, and walleye here.
Lake Independence: In a serene rural setting, this body of water attracts anglers of all skill levels. The 800-some-acre lake is known for being more peaceful than other area fishing spots. A paved boat launch is available at Lake Independence. An unpaved boat launch is located at Spurzem Lake, and a carry-in access is available at Half Moon Lake. No wake at Half Moon and Spurzem. Gas motors are allowed at Spurzem. Anglers must have a valid Minnesota fishing license.
What You Can Expect To Catch: People often fish for several types of fish including green sunfish, largemouth bass, bluegill, common carp, muskellunge, silver redhorse, yellow perch, walleye, black crappie, pumpkinseed sunfish, and black bullhead.
After Your Summer Boating And Fishing Excursions…Once the season slows, or if you notice any damage to your boat, contact Anchor Marine for restoration services. We perform fiberglass repair, metal flake repair, and aluminum boat repair for collision, structural, and storm damaged boats. We can handle everything from pickup to delivery, and everything in between. In the Minneapolis-St. Paul area, give us a call at (763) 972-3540 or contact us online. We'll ensure that you get back to enjoying all the lakes, rivers, and streams Minnesota is famous for!