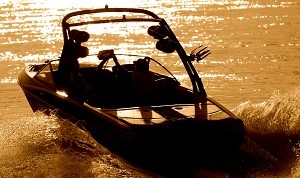 If you own a high-end ski boat, then we understand the pain of having to get it repaired. At Anchor Marine Repair, we love what we do. We find joy in taking your damaged, high end ski boat and restoring it to better than pre-accident condition. With passion for collision repair, state of the art technology, and years of experience under our belts, we are the right choice for anyone looking to have their high-end ski boat repaired.
The Uniqueness of a Ski Boat
High end ski boats can be a bit fragile when you think about it. In order to gain both speed and smoothness out on the water, ski boats must be light and strong at the same time. With a combination of luxury and complex technology, you don't want just anyone performing a collision repair. You want the best. At Anchor Marine Repair, we will make sure your high-end ski boat is brought back to life and better than ever. We will make it look great once again, glide effortlessly through the water, pick up that same speed just as before and repair any other feature that may have been affected by the collision. High end ski boats are fun out on the water and it brings us joy to bring them back to life for so many of our customers.
Common Collision Repairs
After a ski boat collision, we do a thorough assessment of your vessel insuring that no damage has gone unnoticed. We will check your hull, your engine, your electrical issues and the structure as a whole. We will look at your upholstery, assess your windows and windshield and do a thorough assessment of everything. Then the real work begins. At Anchor Marine Repair, we are known for being number one in storm and collision damage repair. Our relationship with boat part companies allows us for quick and timely repairs. This means quality work in the most efficient way. We also provide pick-up and delivery for any of our customers.
If you are looking for a high-end ski boat collision repair company, look no further than your expert professionals here at Anchor Marine Repair. For more information about our services, give us a call today. Call us at 763-972-3540 or feel free to send us an email at service@anchormarinerepair.com.