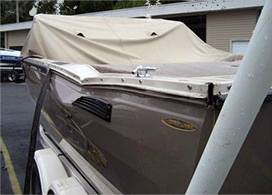 At Anchor Marine Repair, we are proud to be a boat insurance collision repair shop that brings your boat or yacht back to life. Our goal is always to take your boat and repair it so that it is better than pre-accident condition. If you are searching for a quality boat insurance collision repair shop, Anchor Marine Repair is the one stop repair shop for all of your needs.
At Anchor Marine Repair, we aren't just known around Minnesota for being the number one shop for storm and collision repair. Vic and his team repair boats and yachts from all over the country. If your boat has been damaged in a collision, you can trust that your vessel will be in safe hands here at Anchor Marine Repair. There is no question that our team of technicians are here because they love what they do. All of our technicians have been with us for at least 10 years, and we have a total of over 45 years of combined experience on boat repairs and renovations.
Boat Insurance Collision Repair
Our experts are committed to staying current on all technologies. We work in a state-of-the-art facility and only use the finest boat repair products available to ensure that your boat is going to be even better than pre-accident condition. No matter what type of boat you may have, from your small fishing boat to a large yacht, we have got you covered. We have 10,000 square feet of workspace for our expert technicians to repair your boat and get you back into the water fast. This space allows us to accommodate boats up to 38 feet in length.
Expert Marine Body Repair Work
At Anchor Marine Repair, we understand how important your boat is to you. Taking good quality care of your boat is of utmost importance. We also know what a hassle it can be to deal with the insurance aspect of your boat. After a boating collision, coming to a shop that can handle it all is a must. To serve our customers in all aspects of their ordeal, we will work directly with your insurance company. This is to guarantee the best boat repair possible and to take the pressure off of you as the owner.
No matter what type of damage was done to your boat, Anchor Marine Repair is here to help you. For boat insurance collision repairs, give us a call today. We provide free estimates and consultations. Call Anchor Marine Repair today at 763-972-3540 or send us an email at services@anchormarinerepair.com.