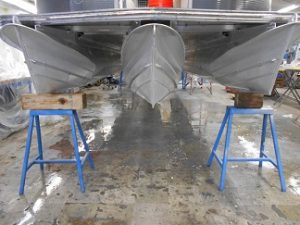 Looking for a boat repair shop in MN that has a strong relationship with the boat insurance providers in the area? Well, by choosing Anchor Marine Repair, you've come to the right place. We are an insurance approved boat collision repair shop, and we hope that you put your trust in our hands so that we can get your boat to better than pre-accident condition.
Dealing with any insurance company is stressful, especially when there is significant damage that has occurred to your boat. Add on the details and paperwork that are needed to file an accurate insurance claim, and you may not think going through your insurance company is worth it. That's where a partnership with our dedicated team comes in handy. We are here to be the helping hands that will get you through the insurance claim filing process. We are your advocates and will work to make sure that all of your boat collision damage is identified and addressed. The end goal is to take some of this stress off of your shoulders. Rest assured that our staff has a strong relationship with all of the boat insurance providers around Minnesota.
Insurance Approved Boat Repairs
With more than 45 years of combined boat collision repair experience, our team can handle all types of collision damage. Thanks to our dedicated staff, we have become the #1 storm and collision damage boat repair shop in the area. With every project that we take on, we do what it takes to repair your boat to better than pre-accident condition. Some of the common insurance approved boat repairs that our experts can handle include the following:
● Fiberglass Repairs
● Aluminum Repairs
● Metal Flake/Poly Flake Repairs
● Wood Floor and Transom Repairs
● Chair Upholstery Repairs
● Boat Refinishing
● Much More!
Boat Repair Company
If your boat has been involved in a recent collision, it never hurts to get your boat evaluated for potential damage. Our staff will provide you with a free consultation where we will inspect your boat and document all of the collision damage that is found. From there, we'll work with you through the insurance claim filing process.
As a boat owner, there will be times where your boat is involved in a collision. If your boat is in need of collision damage repairs and you are struggling with the insurance claim process, our team at Anchor Marine Repair is here to help. Give our insurance approved boat collision repair shop in MN a call today at (763) 972-3540 or email service@anchormarinerepair.com.