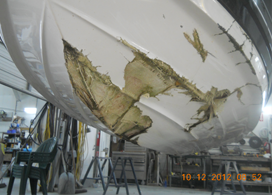 Fiberglass is often the material responsible for nicks, chips, and spider-webbing on boats. These can be an eyesore and ruin the appearance of either the interior or hull of a vessel. If these cracks get worse, water may seep into the hull leading to serious issues. Modern boats typically consist of fiberglass or laminate decks/hulls as well as fiberglass components like consoles.
What Should I Do If My Fiberglass Surface Cracks?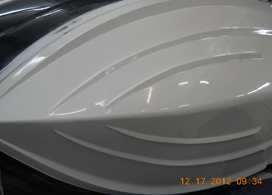 Fiberglass is an important material for boat builders. Not only does it make nice boats more affordable, but its gelcoat and fiberglass can get damaged as well – which could leave your vessel stuck in a boatyard instead of on the open water! Marine fiberglass maintenance and repair are just as important as sailboat canvas repair or marine engine repair; sometimes small flaws in fiberglass may go overlooked with the thought that "it will be fixed later", leading to costly mistakes later in life.
Fiberglass can deteriorate over time due to various causes. UV rays and heat from the sun can make it brittle, while water seeping through cracks in its gel coat causes structural damage if damaged by impacts or vibrations. Saltwater also contributes to this process by creating undue pressure which accelerates aging.
Can I Fix Minor Fiberglass Issues Myself?
While some repairs can be completed by the DIYer and some require professional assistance, many tasks require expertise and experience. Hiring someone experienced and qualified for small jobs is your best bet; any cracks or damage to the fiberglass, gelcoat or laminate core could result in expensive repairs. Furthermore, many boats must be taken out of the water for repairs to take place.
Are you aware of the significance of resin compatibility and fiberglass fabric compatibility? Fiberglass mats require a polyester-soluble binder to prevent epoxy from dissolving them, while epoxy adhesives can be used for adhesion. Do you possess appropriate tools such as saturation rollers, mechanical sanders or grinding machines? Professionals should only handle certain situations such as when fiberglass thickness or depth are unknown, damage where fiberglass fibers may be visible (i.e., on older boats), and gelcoat needs blending in with the rest of the surface.
Expert Fiberglass Boat Repairs
Anchor Marine Repair understands the value of your boat as an investment and strives to get you on the water quickly. As Minnesota's #1 marine repair shop, we will pick up and deliver your vessel at no extra cost and work with your insurance company if applicable for reduced out-of-pocket expenses. Our fiberglass specialists will give your vessel the repairs it needs. To arrange a free estimate or learn more about our services, call us today at (763) 972-3540 or email service@anchormarinerepair.com