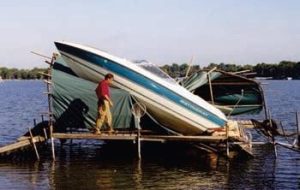 Your boat is likely one of your most prized possessions. It provides you with a way to relax, enjoy the outdoors and be out on the water. There is nothing like the feeling of being out on your boat. However, when the weather turns severe, your boat is vulnerable to damage, no matter how much you work to protect it in the dock. If your boat sustains storm damage of any kind, turn to the team at Anchor Marine Repair for assistance. We are the #1 boat shop for storm damage repair in Minnesota and will get your back on the water quickly, in even better than pre-accident shape.
Professional Boat Collision Repair
Anchor Marine Repair specializes in fiberglass, aluminum and metal flake boat repair. In this area, we find that much of the damage to boats occurs from wind and rain. Wind can also push your boat into the dock, which can also be a cause for repair. Our team is skilled and experienced and brings their own passion to the boat repair process, offering the highest quality workmanship, excellent customer service, and competitive prices to each job we complete. What else sets us apart from other boat repair shops in the area?
● Large state-of-the art facility: Our two-building facility has more than 10,000 square feet of repair space so we can offer the fastest turnaround time in the area. This also allows us to repair boats up to 38' in length.
● We can work directly with your insurance company on coverage and payment: We are happy to take the headache of working with an insurance company off of your hands. We find that when we work directly with them, you are served better, and the repair process can go more smoothly.
● Pick-up and delivery services: Our team can pick up and/or deliver your boat to and from your dock or home to make it easier on our customers!
● Free consultations and estimates: We do not like to surprise our customers so offer free consultations and estimates so that you can make the best possible decision about the timing of your boat repair.
● Most experienced team in the area: Each of our boat repair technicians has been with Anchor Marine Repair for more than a decade. So, you can be confident that we have seen many different types of issues and can put that experience to work for you.
If your boat has sustained storm damage and needs professional repair, look no further than Anchor Marine Repair in Delano, MN. Give us a call at 763-972-3540 for more information.