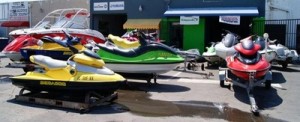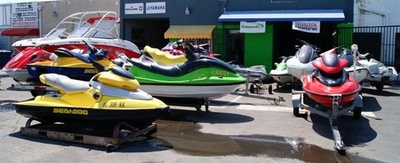 Has anyone ever played Wave Race on the Nintendo 64? It can bring back some pretty good memories of sore thumbs and "power ups". For those that don't know, Wave Race was a Nintendo game that basically allowed players to do racing and stunt tricks on their wave runners. In one type of race, the more stunts you pulled yielded a faster engine, "power ups." This as we know, however, is just not true in real life. For those that own wave-runners, you know exactly what we mean. In fact, the harder you go on a waverunner, the more likely you are to need it repaired. So here's the kicker, how can you not go hard on a wave runner? Just like in Nintendo 64, it's a "go big or go home" kind of water toy. At Anchor Marine Repair, we know how much you want your waverunner back out on the water. If you are looking for a jet ski repair shop in the Minneapolis, MN area, look no further than Anchor Marine Repair. *Anchor Marine does not do major mechanical work. We specialize in fiberglass repair, marine paint, and other cosmetic issues.
Not For the DIY Crowd
While waverunners and other jet skis look simple enough, they are complicated vehicles to fix. Let's be honest, they're small, they're fast, and they float…They're like magic! So with that being said, jet skies are a lot more complicated than they look. In fact, they require a skilled technician that is used to their unique characteristics and quirks. If you try and do it yourself without the proper background, you are only going to make things worse. Without having a knowledgeable technician working on your waverunner, you can make a very costly mistake. One that can result in the death of your beautiful waverunner (no power ups here).
Skilled Technicians
So let's avoid that mess altogether and go straight to a wave-runner repair shop near you. Anchor Marine Repair has technicians with years of experience fixing and repairing wave runners. We have earned the respect of multiple jet ski owners as well as insurance companies in the area. Our certified technicians can fix your waverunner affordably and efficiently so you can get back on the water in no time. We will also work directly with your insurance company in cases where a claim was filed – all you have to do is call!
For more information about the waverunner repair shop near Minneapolis, MN, give Anchor Marine Repair a call today at 763-972-3540 or send us an email at service@anchormarinerepair.com.