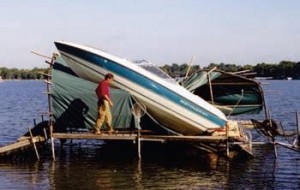 There is just nothing like the look and feel of a Larson boat out on the water in Minnetonka. Not only are the views in this area beautiful, but the Larson boat makes boat lovers jaws drop when it smoothly glides across the water. Larson boats have been around for over 100 years, so they must be doing something right when it comes to crafting boats. One thing has been consistent with Larson boats dating all the way back to the first boat that founder, Paul Larson, built in 1913, and that is always being ahead of the times. Through innovation and forward thinking, Larson boats are here to stay! If you are a current Larson boat owner, do you have a plan if your precious boat gets damaged? Living in Minnetonka, you are in luck because at Anchor Marine Repair, we have Larson boat repair specialists that are eager to help get you and your Larson boat back out on the water in no time!
Boat Repair Minnetonka
The surrounding lakes around Minnetonka are absolutely breathtaking. Unfortunately, they are not free of debris, brush and other factors that could damage your boat. No matter if you are fishing, tubing, or just taking a stroll across the lake, you are not immune to boat damage. At Anchor Marine Repair, we want you to be able to have the peace of mind that if your Larson boat does need repairs, you have a group of repair specialists that specialize in Larson boat repairs. The minute you notice damage on your boat or with its existing mechanics, give our staff a call and we will work to get your boat on the schedule as quickly as possible. Warm weather only happens for so long in Minnesota each year, which is why we work to get you back on the water as quickly as possible while still repairing your Larson boat to better than pre-accident condition. Whether your needed repairs are mechanical, cosmetic, or engine based, our team has you covered.
Larson Boat Repair Shop Lake Minnetonka
Thanks to more than 45 years of combined experience in the boat repair industry, our expert staff can handle any repair that comes through our doors. Through collaborative teamwork, high quality products and unmatched experience, the team at Anchor Marine Repair can be trusted with your Larson boat. To top it off, we offer pick-up and drop-off services for boat repairs of the Minneapolis and St. Paul areas. That's right! Other than picking up the phone to make the call to Anchor Marine Repair, you will not have to move a muscle when it comes to getting your Larson boat repaired. How is that for service?
So, if you are currently dealing with damages on your Larson boat that need to be addressed, or if you are in search of a reliable Larson boat repair shop in Minnetonka, Anchor Marine Repair is the partner for you. Give us a call today at (763) 972-3540 or email service@anchormarinerepair.com to request a free estimate.