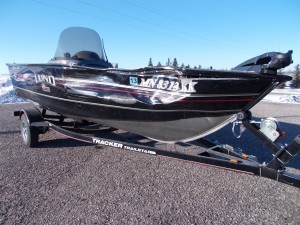 When it comes to fishing boats, you can't go wrong with a Lund boat. Not only do you get an incredible ride on the water with a Lund boat, but the design of this boat simply cannot be matched. Lund boats have been around for more than 60 years, and there is no sign of them going away anytime soon. The aluminum design helps Lund boats last. However, no matter how strong your Lund boat may be, damage can still occur to your boat out on the water. If you are dealing with Lund boat damage right now, it is important to choose a boat repair shop that has that same passion for Lund boats as you do. At Anchor Marine Repair, we specialize in Lund boat repairs.
Dedicated Lund Boat Repair Team
Deciding on the right boat repair team for your Lund boat should not be taken lightly. At Anchor Marine Repair, you get a team that is focused on the detail, dedicated to their customers and has more than 45 years of combined boat repair experience. With every Lund boat, our goal is to get your boat back to equal or better shape than it was in when you brought it into our shop for a repair. No matter what type of damage you are dealing with, our boat repair shop has you covered. Dealing with structural damage on your Lund boat? We can handle that! Does your boat have damaged floors, seats, transoms, or electrical? Anchor Marine Repair has you covered. To top it off, we even offer customizable options if you are in need of a specific request or need your boat refurbished. Thanks to our 10,000 square foot facility, we can tackle your Lund boat repair in a timely fashion so that you can get back out on the water and fish!
Free Lund Boat Repair Estimates
With any repair, understanding your out of pocket costs upfront is crucial. There's no need to add any more anxiety to your boat repairs than you are already dealing with. By choosing Anchor Marine Repair for all of your Lund boat repair needs, you'll be given a free estimate that breaks down all of the costs upfront. Our affordable pricing is another reason why Lund boat owners choose our boat repair shop.
Is your Lund boat your prized possession? Has it recently been damaged? If so, leave your Lund boat in the hands of our experienced and affordable team at Anchor Marine Repair. Specializing in Lund boat repairs, we'll repair your boat to better than the condition it was in before the accident. To learn more about our expert team and request a free estimate, contact Anchor Marine Repair today at (763) 972-3540 or email service@anchormarinerepair.com.