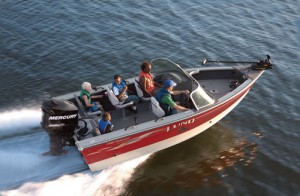 Have you just gotten back from a fishing trip with your best friends on your most prized possession, your Lund fishing boat? Chances are if you own a Lund boat, you spend most of your days on the water during the warmer months in the Twin Cities area. If your boat got damaged on that recent fishing trip, it is important that you pursue quality boat repair services quickly. Luckily for you, Anchor Marine Repair is right around the corner, and they specialize in Lund boat repairs.
A Team of Boat Repair Technicians You Can Trust
Don't get tricked into leaving your Lund boat with inexperienced repairmen. It is important that you do the background work to ensure that the repair shop you choose will do a great job with your boat repairs. With Anchor Marine Repair, we have nothing to hide. We are confident that you will be completely satisfied with the reviews, track record, and relationships that we have with insurance companies. With over 45 years of combined boat experience, our crew has seen it all when it comes to Lund boat repairs. If you are looking for a Minneapolis and St. Paul boat repair company to partner with, our reputation as the #1 boat repair shop in Minneapolis shouldn't be taken lightly. We make it a goal to have your boat repaired to a better condition than it was in before the accident occurred. Lastly, we make it extremely easy for you to get your Lund boat repaired. We offer pick up and delivery service. Now you have no excuse as to why your boat is not back in the water!
Diverse Lund Boat Repairs
At Anchor Marine Repair, we offer the four course meal when it comes to Lund boat repairs. Whether you need to replace the carpet or upholstery on your boat, or you need to replace lights or electrical, we've got you covered. Structural damage repairs are another specialty of ours as well. Our dedicated team even offers customization of your boat such as custom storage compartments, as well as a total refurbishing option. We know how much your Lund boat means to you, so let us be your one stop shop for all of your Lund boat repair needs.
Now that you have found the boat repair company to partner with, you can hold your head high that your Lund boat will be taken care of. If you live in the Twin Cities area, give Anchor Marine Repair a call today at (763) 972-3540 for all of your Lund boat repair needs. You'll be able to plan your next fishing trip in no time!