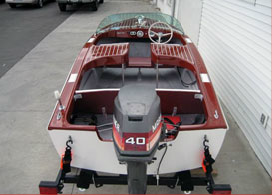 Boating season is almost here and that means it's time to make sure your boat is ready! You might be wondering, "what is the best marine watercraft repair shop near me?" and we're happy to tell you that you've found it. Here at Anchor Marine Repair, we've got the experience you can trust to ensure this summer is a great one out on the water. Serving the Delano, MN area for over 10 years now, we've seen it all and can help no matter what service your boat needs.
Customer Service That Matters
We care deeply about your experience at Anchor Marine Repair. That's why we're willing to pick up your boat or equipment for servicing, free of charge. We'll also even deliver it back to you, at no additional cost, once servicing is completed. And that's along with our free consultations and estimates! That's how sure we are that you'll be happy with our boat repair service and expertise.
Why Choose Anchor Marine Repair?
Our facilities are state-of-the-art and can easily handle boats up to 38'. All of our technicians have been at Anchor Marine Repair for more than 10 years and offer a combined 45+ years of experience in boat repairs, service and maintenance. They say that if you do what you love, you'll never work a day in your life and that's been the case here ever since we opened. Boats are our passion and that pride of work shows in every job we complete.
Our Watercraft Repair Services
We offer the following services at Anchor Marine Repair:
Alumacraft Boat Repair
Boat Trailer Repair
Boat Insurance Repair
Boat Painting
Boat Collision Repair
Boat Windshield Repair
Windshield Replace
Chaparral Boat Repair
Crestliner Boat Repair
Glastron Boat Repair
Jet Ski Repair
Larson Boat Repair
Lund Boat Repair
MasterCraft Boat Repair
Metal Flake Repair
Pontoon Repair
Propeller Mount Repair
Ranger Boat Repair
Repairs & Renovations
Sea Ray Boat Repair
Transom Repair
Yacht Repair
Whatever services you need for your boat or boating equipment, we're here to help. Give us a call today at 763-972-3540 to get started. With summer just around the corner, don't miss out on time out on the water just because your boat is in need of service. Let us help you get summer off to a great start!