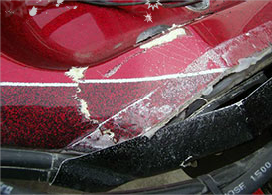 Your boat is one of the biggest investments you will ever make, and one very close to your heart. You want to keep your boat looking its best and performing well.  One aspect of this is keeping the top gel coat on your boat that gives it the shine you love in the best possible condition and to protect the metal flake below, which can oxidize if exposed to the elements.  Anchor Marine Repair is your #1 boat repair shop for those living in and around Minnesota. Our team loves boats as much as you do and knows that you want to get back on the water where you belong as soon as possible.
Metal Flake Repair, Minnesota
One of the most common signs that you need to complete repairs on your boat's metal flake is if you notice that the metal flake is turning silver.   A metal flake is simply a piece of metal that has been painted. When it is exposed and becomes oxidized, you lose the bright paint job on the flakes of metal, and your boat begins to look run down.  Repairing this can be difficult.  Anchor Marine Repair specializes in metal flake repair and has become known for being able to restore a boat's shine and original luster.  We take great care for your boat while we are working on it and will return it to you looking brand new!
Anchor Marine Repair can complete metal flake repair from small scratches to larger damage areas that may have been on your boat for years.  Our team has a combined 45 years of experience working on boats and can restore boats with major structural damage or more minor cosmetic issues.  We are the Minnesota leader in metal flake repair.
One Stop Boat Repair Shop
Anchor Marine Repair is located near Lake Minnetonka, Minnesota, and we have built a state of the art facility with more than 10,000 square feet of working space. We have two spray booths (42' and 48') so that we can provide the best possible service and the fastest turnaround time in the area.  We can accommodate boats up to 38' in length and our highly skilled technicians use only the finest tools, equipment and repair techniques so you can be confident that your boat is really being taken care of well.
Our team will also pick up and deliver your boat to you, so call us today at (763) 972-3540 to schedule a time to get your boat in so that next spring you will be ready for the water!