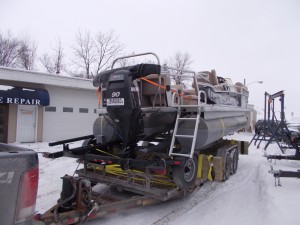 Month after month over the winter season, you were telling yourself that it was time to get your pontoon fixed before spring arrives. Well, the warmer weather is here and all of your friends with boats are ready to get their pontoons out on the water, if they haven't already done so. If your pontoon boat needs a few repairs before you can get it out on the lake, Anchor Marine Repair is eager to help! Don't waste anymore time being lazy. This beautiful, Minneapolis, MN weather does not last all year long! Don't let another lake season go by with your pontoon boat spending too much time on land instead of the water!
Top Notch Pontoon Repair Services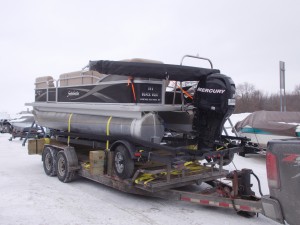 By partnering with Anchor Marine Repair, you are teaming up with the number one boat repair shop in Minneapolis. Achieving this recognition did not come easy. Thanks to our experienced staff that has over 45 years of combined experience, we have the knowledge to handle any pontoon repair job. Additionally, we strive to make the repair process as easy as possible for you as a customer. To make it easy on you, our staff will pick up and deliver your pontoon back to you after the repairs have been completed, as long as you live within 250 miles of Minneapolis. All of these characteristics help to make sure that your pontoon is given back to you in better shape than it was in before any accident or repair occurred. Although we are busy this time of year, our 10,000 square foot facility allows us to tackle multiple repair projects at a time.
Pontoon Repair Options
In order for you to enjoy the calm, relaxing stroll on your pontoon boat, it is important that it is in tip-top shape inside and out. Our dedicated team can handle body damage, upholstery repairs, and also can help with upgrade features that you may be interested in pursuing. Seats, furniture, and canopy replacements can all be handled at Anchor Marine Repair as well. Other repairs that we can assist with include windshield repair, trailer repair, propeller repair, and we can even give your pontoon a brand new paint job.
If you live in Minneapolis, MN, now is the time to make the commitment to Anchor Marine Repair. Count on us to get your pontoon boat back to working order so that you, your family and friends can get back out on the water. Give us a call today at (763) 972-3540 and don't let another beautiful day pass by!