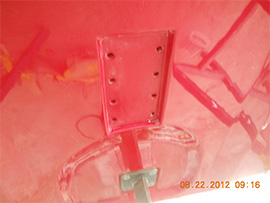 Have you ever thought about how a boat is able to float on water at high speeds and with multiple people on board? Some people fear the water, but they feel safe when enjoying the lake life on a boat. Boats have been around almost as far back as history goes. In the beginning of time, canoe type boats were made of wood and rocks. Today's boat has come a very long way and what is in store for the future is extremely exciting. One of the most important parts of a boat today is the propeller. Without a functioning propeller, your boat simply will not work. If you live in the Twin Cities of Minnesota and need propeller mount repairs, it is time that you teamed up with Anchor Marine Repair. Committed to providing all our customers with quality boat repair services, your propeller mount will be addressed quickly and with high level expertise.
Importance Of A Boats Propeller Mount
Other than the boat's engine, there is no boat part that has more duties than the propeller. Your boat's propeller has its hand on all areas of performance including comfort, speed, acceleration, safety, fuel and engine life and handling. The lakes of Minnesota may have debris underwater that your boat's propeller encounters. Normal wear and tear of your propeller can reduce its efficiency over time. If you feel a lot of vibration while out on the water, your propeller may need to be repaired. This is not a repair that you can just ignore. If not corrected, permanent damage can occur with your propeller mount. The last thing you want to happen is for your boat to break down in the middle of the lake! If you are not sure whether your propeller is damaged, our highly experienced staff at Anchor Marine Repair can inspect your propeller mount to see if any repairs are needed.
Propeller Mount Repairs in The Twin Cities Metro
At Anchor Marine Repair, we know how much your boat means to you. Additionally, we have invested in the highest quality boat repair equipment available, and we have the experience to back it up. With over 45 years of combined experience, our boat repair technicians can handle your propeller mount repairs with ease. Thanks to our pick-up and delivery services, you have no excuse for your boat not to get repaired! If you are looking for a reliable and experienced Minneapolis and St. Paul boat repair company to repair your propeller mount, Anchor Marine Repair is the partner for you. Give us a call today at (763) 972-3540 to set up a free estimate or consultation.