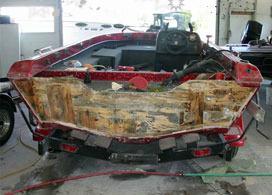 Every part of your boat needs to be in proper working condition to run well, but what about the way your boat looks? And when is it time to say "enough" to exterior damage that could begin to affect the performance of your boat? At Anchor Marine Repair, we like to think that each part of your boat should be in as good a condition as possible, and that's why we provide full-boat repairs for every part of your boat and for a wide variety of boat brands. That includes making transom repairs. If you're looking for a Minneapolis, MN transom repair shop, Anchor Marine Repair is the solution. With a talented and experienced boat repair team, we can provide full-service boat repairs for mechanical and aesthetic refurbishment and repair, and we prioritize every job we get. Just as each of our customers is unique, so too are their boats, and we treat every person and boat we meet with respect and care. For a Minneapolis transom repair shop you can trust and count on to make high-quality transom repairs, come to our boat repair team, and leave knowing that your boat will look and run several times better than it did when it arrived.
Damaged Transom Repair Shop
When your transom has been damaged, it can negatively affect several parts of your boat, especially depending on your boat brand. In fact, transom damage can cause damage throughout your boat from the hull to the engine. This means that, even if your boat could theoretically still run with a damaged transom, it may not be seaworthy. Keeping up with necessary transom repairs and refurbishments is an important part of responsibly owning a boat, as it's the most abused part of the boat and also one of the most integral parts. Whether your boat has a rotted transom or a damaged transom from a boating accident or intense wear, you'll need to make the necessary transom repairs as soon as possible to avoid further damage to the rest of your boat.
Boat Brands We Repair
Because we appreciate the subtle and overt differences in boat brands, boat styles, boat designs, and boat aesthetics, we know that making transom repairs is not something to be completed by an inexperienced transom repair team. At Anchor Marine Repair, we make a wide range of boat brand repairs, including: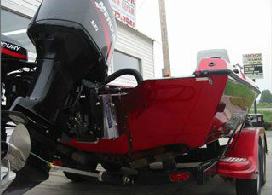 Chaparral Boats
Alumacraft Boats
Crestliner Boats
Larson Boats
Lund Boats
Sea Ray Boats and Yachts
Pontoon Boats
Glastron Boats
MasterCraft Boats
Ranger Boats
Yachts
Minneapolis Transom Repairs
To be sure that your boat isn't in need of even more serious repairs than just transom repairs, don't wait to bring it in to Anchor Marine Repair, where we'll deal with any transom repairs and fix underlying boat damage that may be caused by a damaged transom. Contact us today at 763-972-3540 or service@anchormarinerepair.com, and get your boat back in good working condition with a repaired transom.