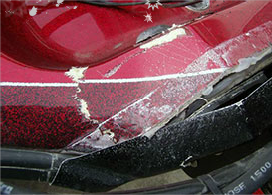 If you are an avid boat owner, you already know that the transom is the strongest part of your boat, and is responsible for both transmitting power from the engine to the rest of the hull and for carrying the pounding of the hull back to the engine. The transom is a critically important part of your outboard boat, and, unfortunately, over time it can really take a beating. This wear and tear eventually causes serious weakening that can leave you sidelined this season. Anchor Marine Repair is a leading US boat repair shop that can complete transom repair for all types of boats so that you can spend more time enjoying your boat IN the water.
Experienced Transom Repair Team
Over time, the most common transom damage tends to be rotting. This rotting can extend even outside of the transom as well to the floors and the stringers, which significantly weakens the overall structure of your vessel. In many cases, once a repair begins, additional, hidden damage and rotting is also found, so you will have to be ready make a decision about how much of the area you want to replace. The team at Anchor Marine Repair are trained and experienced in all types of boat repair and can help you determine what must be done immediately and what can wait. Our technicians love boats as much, if not even more, than our clients so you can be sure that you will get an accurate and honest assessment of potential repairs and costs from our crew. In addition, Anchor Marine Repair has transom repair experience working on many different sizes and shapes of boats and is committed to restoring your boat to optimal function in a short period of time.
#1 Boat Repair Shop, MN
Our 10,000 square foot shop is conveniently located in Delano, MN (near Lake Minnetonka) and can accommodate boats all the way up to 38' long. We have two spray booths and can complete all types of repairs and renovations to get your boat back in the condition you want and quickly. We will even pick up from your dock, home or marina so that you do not have to drive your boat to our shop. So, when your boat's transom needs to be repaired, look no further than Anchor Marine Repair to get you back in the water ASAP. Call our team at 763-972-3540 today!