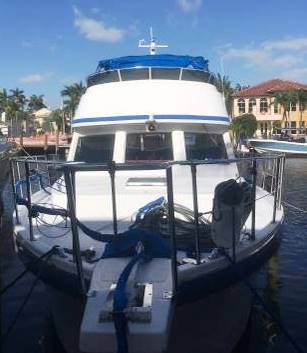 At Anchor Marine Repair, we have seen a lot of boating accidents in our day. So much so, that we are number one in marine storm and collision damage repair. We handle all types of accidents, big and small. One of our most frequent repairs that our excellent technicians take on is trawler accident repairs. Whether you are trawling to be leisurely out on the water or you were utilizing your trawling boat for fishing, having an accident can put a real damper on your boating season. At Anchor Marine Repair, we want to see you up and back out on the water. We are a quality Trawler accident insurance repair shop that will get the job done fast and efficiently so that you can get back to enjoying your motor-boating.
Trawler Accidents & Damage Repair Specialists
Whether you just weren't paying attention to where you were going and ruined the bottom of your boat or perhaps another boat collided with your trawler, either way, when the worst happens, you need the best! Anchor Marine Repair will take your boat and perform all the repair needs to get it looking even better than its pre-accident condition! We will take a look at the damage and determine what needs to be fixed to get your boat looking and feeling new again. With most trawler accidents, structural damage seems to be the most common repair. Our expert technicians have over 45 years of combined experience repairing and restoring boats. We also have many relationships with boat repair product companies so that if you need a part replaced, we can get it done fast. With our state-of-the-art facility, the latest technology and techniques, and our commitment to serve our customers well, there is not a better place to get your boat repaired after a trawler accident.
Insurance Approved Marine Repair Shop
We know that having a boating accident is stressful enough. To take some of the stress away from our customers, we will work directly with your boating insurance company so that you don't have to! With our experience and knowledge, we have formed relationships with insurance companies so that we can get the best repair possible for all of our customers. When a boating accident is involved, letting us handle your repairs and insurance costs all at once makes it much less of a headache in the long run.
If you are looking for a trawler accident repair shop, look no further than Anchor Marine Repair. We offer free estimates and consultations. Call us today at 763-972-3540 or send us an email at service@anchormarinerepair.com to learn more.