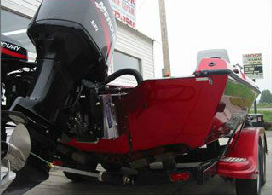 When it comes to the life of a boat, damage is bound to occur at some point. So, when this unfortunate situation occurs, do you know who to call for your boat repair needs? There are plenty of boat repair shops in MN, but none that offer the level of quality and trust as our team at Anchor Marine Repair. We are eager to become your one stop repair shop for all of your needs whenever a repair is needed.
Keeping Our Customers First
At Anchor Marine Repair, we understand that your boat is likely one of your prized possessions. For that reason, we strive to make the boat repair experience as pleasant as possible for our clients. Rather than turning your boat damage into a massive headache for you, we want you to handle all aspects of the repair. We offer pick-up and delivery service. If your insurance company is involved, no need to worry as we are insurance approved. Concerned about the cost of your repair? Our trusted boat repair specialists offer a free boat repair estimate so that you can get a true picture of your out of pocket costs before committing to the repairs. We're confident that you'll find our boat repair prices very affordable.
Diverse Boat Repairs
Whether you have a fiberglass, aluminum or metal flake boat, our team at Anchor Marine Repair can get your boat repaired to better than pre-accident condition. There's a reason we are #1 in storm and collision damage repair. The majority of our boat repair specialists have at least 10 years of experience, so rest assured that we've seen it all when it comes to boat damage. Common damage and repairs that we handle include:
Windshield Repair & Replacement
Hull Damage
Upholstery Repair and Restoration
Don't ignore the damage or issues that you're currently having with your boat. If you want your boat to be around for the long haul, it's important to properly maintain and fix the repairs needed. When it comes to finding a trusted boat repair team in Minnesota, look no further than our experts at Anchor Marine Repair. To request your free boat repair estimate, give us a call today at (763) 972-3540 or email service@anchormarinerepair.com. This is a decision that both you and your boat will not regret!