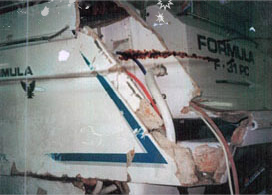 Purchasing a yacht is a big investment that most people cannot afford. If you are one of the lucky ones that is able to afford a yacht, properly maintaining these boats year around can be a tall task. At Anchor Marine Repair, we have a true passion for yacht repair and we have a dedicated team to back it up! If your yacht could use a little tender love and care, let us be your one stop repair shop for all of your yacht repair needs.
Regular Repair and Maintenance
If you take your yacht out on the water, damage along the way should be expected. With more than 45 years of combined boat repair experience, there isn't much our team hasn't seen when it comes to yacht damage. By leaving your yacht in the hands of our dedicated repair specialists, we make it a point to repair your yacht to better than pre-accident condition. Each of our technicians has been with our team at Anchor Marine Repair for at least 10 years, which shows just how much respect we have for each other. The minute your yacht arrives at our repair shop, we treat your prized possession just like family!
Common Yacht Repairs
We do not shy away from any type of yacht damage. No matter what type of issue you are dealing with, leave it with our staff and take advantage of our free estimates. We'll do a full evaluation on your yacht to find any repairs that are needed. Only the necessary repairs are what will be recommended by our crew. Commonly, some of the yacht repairs we complete include:
● Hull Maintenance
● Paint & Chipping Repairs
● Fiberglass Repair
● Aluminum Repair
● Teak Deck Refitting
● Wood Floor Repair
● Collision Repair
● Regular Yacht Maintenance
Yacht Restoration
Another passion that our team has is yacht restoration. We love to customize and provide upgrades to make your yacht the perfect boat! If you're spending a lot of time out on the water in your yacht, it makes sense that you want your yacht to fit your needs. Whether you'd like a custom paint job, gelcoat restoration, electrical upgrades or new upholstery leave it up to Anchor Marine Repair for all of your restoration needs.
Choosing the right yacht repair shop should not be taken lightly. If you are in need of yacht repairs or are looking to restore your yacht, there's no better repair team to choose than Anchor Marine Repair. Our commitment to customer service, reputable work and timely completion of repairs cannot be matched in the industry. To request a free estimate today, give us a call at (763) 972-3540