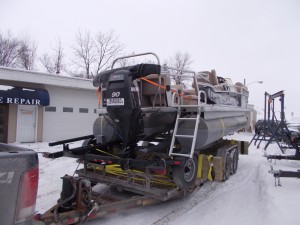 Motor boating season is just around the corner. Get ready to have Little Big Town on repeat out on the lake! Wait, what? Your pontoon's out of commission? Listen, at Anchor Marine Repair we understand that owning a pontoon comes with its fair share of choppy waters, but we can help repair those damages and ensure smooth sailing for the rest of your boating season. We are pontoon maintenance and repair experts and perform repairs, renovations, and pontoon restoration services near the Mpls & St Paul, MN area.
Pontoon Repairs in Minnesota
Little Big Town sang it well, you can make some real waves and catch some nice rays up on the roof of a pontoon. What the song doesn't tell you is that pontoons can easily be damaged. Not to worry though, if you need pontoon repairs in Minnesota, Anchor Marine Repair has got you covered. If you spend any decent amount of time out on the water, it's likely that some parts of your pontoon may look worn down. So let Anchor Marine Repair assess the damage of your boat and fix the problems so you can go back to motorboating all season long.
Pontoon Renovations in Minnesota
These days people are buying pontoons so that they can have fun on the lake with an added measure of comfort. So if you are interested in pontoon renovations in Minnesota, we can help! We can bring you comfort with living room-like couches, lounge chairs, kitchen sinks and appliances. Parties on your pontoon boat can be elevated to a whole new level at Anchor Marine Repair.
Pontoon Restoration Services
Maybe your pontoon needs new life? With quality seat replacements, furniture and accessories, maybe even a new canopy or bimini top, your once very grungy looking pontoon can be restored and become beautiful again. Our pontoon restoration services can handle pontoons of all types and sizes.
Minnesota's Pontoon Maintenance and Repair Experts
No matter what your reasoning, Anchor Marine Repair is Minnesota's pontoon maintenance and repair experts that can get your pontoon out on the water just in time for boating season. We know that owning a pontoon can be a lot of work and it does not come without risk of needing repairs and restoration. This is why we are here to help! For more information about Anchor Marine Repair and our pontoon maintenance and repair experts, give us a call today at 763-972-3540 or email us at service@anchormarinerepair.com.