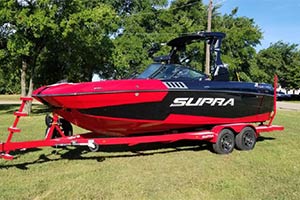 With the winter season on the way out and spring temperatures on our doorstep, it is time to start thinking about getting back out on the water. To ensure your boat is ready to hit the waters, there are a few things that must be done beforehand. Certainly, there are several mechanical steps that must be attended to (checking fuel systems, cleaning pumps, checking batteries, cables, and hoses, etc.), but oftentimes, boat owners forget to check the structural aspects and general cleanliness?
Cleaning all canvas, vinyl, and carpets
Vacuum any leaves or dust that might have crept underneath carpets. Vacuum the cushions, vinyl, and if you're a pontoon owner, your Bimini top. While you're at it, make sure there's no cracks or tears in the vinyl upholstery or benches. Invest in some seat covers that protect the vinyl from UV rays and mildew.
Checking The hull's Exterior For Damage
While the boat is still trailered or on a lift, be sure to thoroughly inspect the exterior for any dents or cracks in the surface material. New dents could eventually lead to leaks. Be sure to notate any damage and if possible, take pictures. Any place where cracks are noticed, consider having professionally repaired.
Prep and paint the boat bottom
If barnacles, slime, and plant growth gain a foothold on your boat's bottom, performance will suffer. Your best line of defense is to add antifouling paints.
Polish, wax and restore boat's finish
Polishing a boat's brightwork and interiors may seem unnecessary, but by doing this, you support the integrity of the moldings, preventing structural damage to windshields, fiberglass etc. (whatever they could be holding together or fastened against).
Minneapolis-St. Paul's #1 restoration and repair service
If you wish to restore your boat to its original glory by upgrading features and restoring your boat's finish, the team at Anchor Marine Repair has you covered. If, during your springtime boat inspection, you noticed something structural that requires repair, Anchor Marine Repair also has you covered. Anchor Marine Repair has a state-of-the-art 10,000sq.ft. workshop with two spray booths and the ability to handle watercraft up to 48' in length. We offer pickup and delivery services, and our team is standing by to help you get your boat seaworthy as soon as possible! Consultations and estimates are always free, so call us at (763) 972-3540 or contact us online today!