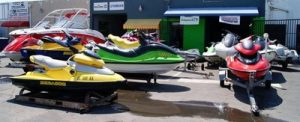 With an abundance of lakes around the Minneapolis, MN area, there's no reason why you shouldn't have your jet ski out and ready to take on the beautiful views of these beautiful lakes. If you are like many other jet ski owners and your personal jet ski is in need of collision repairs before you can get back out on the water, our team at Anchor Marine Repair is here to help. Don't waste another day leaving your jet ski damaged. Instead, take advantage of our affordable jet ski repair options.
Minneapolis' Preferred Jet Ski Repair Shop
Our jet ski repair experts are the number one jet ski and boat body repair shop in the Minneapolis, MN area. We didn't earn this reputation overnight. In fact, our technicians have more than 45 years of combined boat and jet ski repair experience. Over these multiple decades, we've been able to master the jet ski repair process, which also allows us to offer these repairs at an affordable price. Our affordable pricing doesn't mean that we jeopardize the quality of our services to our clients. Our goal is based on a long-term relationship where you and your family decide to bring your current and future jet skis to our repair shop anytime collision or storm damage has occurred.
Collision Repairs For All Jet Ski Brands
Since we have so much experience handling all jet ski brand repairs, you can rest assured that we have worked on just about every brand of jet ski. This includes the popular jet ski brands such as Kawasaki, Seadoo, Yamaha, Polaris and Honda. Other jet ski repair shops in the area may only focus on a few jet ski brands. Our jet ski repair professionals understand the differences and nuances between each brand, which helps us ensure that we get the repair completed correctly the first time around.
Free Jet Ski Repair Estimate
If cost is a top priority for you, our staff makes it simple for our clients. By offering a free jet ski repair estimate, you can bring your jet ski to our shop for a free evaluation. We'll inspect every inch of your jet ski to determine what type of repairs are needed. From there, we will provide you with a fair and honest jet ski repair estimate which provides the recommendations of our staff. If after reviewing the estimate you feel that it is not the right time to move forward with the repairs, we will not hassle you into any decision that you are not ready to make. We are confident, however, that you'll find our repair estimate to be extremely competitive and affordable.
Don't let your jet ski remain out of the water this entire boating season. Instead, it is time for you to bring your jet ski over to Anchor Marine Repair in Minneapolis, MN. To request a free estimate regarding our affordable jet ski collision repair services, give us a call today at (763) 972-3540 or email service@anchormarinerepair.com.