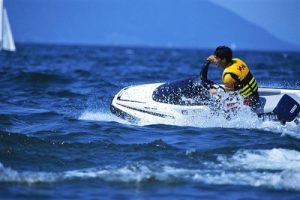 One of the best adrenaline rushes out on the water is taking a ride on a jet ski. If you can't enjoy a thrilling ride on your jet ski because it is currently damaged, don't let it sit around any longer. Anchor Marine Repair has the repair professionals that can get your jet ski back in the water!
Jet Ski Body Repair
Even though a jet ski is smaller than a boat, it can still be extremely complicated to work on when it comes to damage and repairs. The various brands of jet skis are different, and the engine space is quite small, making them hard to work on. Don't assume that you'll be able to handle the damage on your own. Instead, leave it up to our knowledgeable jet ski body and paint repair technicians that can get the job done right the first time around. And, thanks to the decades of experience on staff, all popular jet ski brands can be serviced. Brands that are most regularly worked on at Anchor Marine include Honda, Sea-Doo, Kawasaki, Yamaha, and Polaris.
Don't Delay Getting The Repairs Completed
There are only certain months during the year that you can spend time on the water with your jet ski, so delaying the jet ski repairs that you need could end up costing you the entire water season. Don't waste any more time as your jet ski continues to collect dust outside of the water. Completing your jet ski repairs on time is a top priority for our team, so all you need to do is make the call and we'll get to work on getting your jet ski back to full strength.
If the reason that you haven't gotten your jet ski repaired is because you don't want to haul it over to our shop, we've got the perfect solution for you! Our staff is proud to offer pickup and delivery services. This takes a lot of stress off customers. Additionally, we can work directly with your insurance carrier if needed to address the accident claim if appropriate.
It's time for you to get your jet ski repaired so that you can get back on the waters of Minnesota as soon as possible. At Anchor Marine Repair, we are the experienced jet ski damage repair professionals that you've been searching for. Contact us at (763) 972-3540 or email service@anchormarinerepair.com to set up an appointment today.