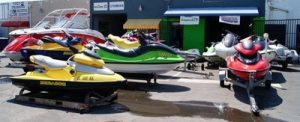 A jet ski is a small, propelled vehicle which skims across the water surface and is driven much like a motorcycle. Jet skis provide great enjoyment to buyers and riders alike! Depending on the model, a jet ski can accommodate up to four people at a time. Jet ski parts eventually wear out or cause problems for the riders. Below are some potential solutions for repairs that owners will likely need to address during the lifecycle of their watercraft.
Jet Pumps
The jet pump contains an impeller which is the main part of accelerating water pressure which leads to increased engine control and increases performance. If your jet pump is not working properly then there will be a negative impact on engine performance.
Fuel Lines
When fuel lines fail, the engine will fail. Faulty fuel lines block the carburetor, causing negative engine performance. To resolve this concern, a fuel line return resistor can be installed between the carburetor and fuel tank. Jet ski performance is increased by fuel stabilization and remains in excellent working condition.
Crankshafts
The crankshaft is the main, rotating part of the engine. Typically, a welded cranks shaft is preferential due to the increased pressure in the pin hold. Pins are the key elements that hold the flywheel in place.
Battery
Typical owners do not investigate a vehicle battery unless the engine refuses to start. Batteries lose charge in cold weather and therefore should be stored in an interior space off season.
Seals And Gaskets
Seals are most important for good engine performance. Sealing an engine involves containment of combustion pressure and stopping coolant and oil from entering that combustion process.
Don't be fooled into thinking that Jet Ski Repair is a DIY project. Jet Skies are complicated machines that require the skills of an expert like the team at Anchor Marine Repair. Our knowledgeable technicians understand the unique characteristics and quirks of each Jet Ski make and model. Tight spaces coupled with unique aspects of each brand make routine Jet Ski damage repairs interesting to say the least. A small error with the aerodynamic Jet Ski body can result in a very expensive mistake.
Look no further than Anchor Marine Repair for Professional Minnesota Jet Ski Repairs. Our skilled technicians have years of experience in repairing all brands of jet skis in the area. We are an affordable and efficient repair shop that offers convenient pickup and drop-off jet ski services for our valued clients. Don't trust your favorite watercraft to anyone else but Anchor Marine Repair. Contact our experts today for a free estimate at (763) 972-3540.