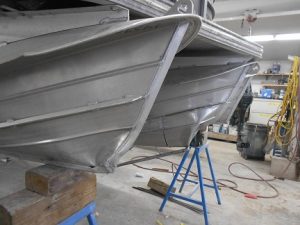 Good pontoon boat maintenance ensures that your investment is well protected. Taking care of your pontoon ensures that it maintains its performance ability and increases its life span. There are specific cleaning and maintenance needs of your pontoon. Following are some conditions that occur with the underside tubes. Most issues are fixable, perhaps even warrantable, and some would argue, even avoidable. If you have damage to your tubes or toons we can schedule a time to get your boat repaired and get you back on the water in a timely fashion. After all, in Minnesota the boating season is short.
Tube Leaks
The tubes, or toons, of a pontoon, are the true heart and soul of the boat. They're typically made of aluminum and are filled with air. They keep the boat afloat and take the brunt of the waves. Playing such an important role, it's important to know what could potentially go wrong. The worst-case scenario would be to have leaky toons. This could happen for a number of reasons and can be detrimental as it's the only way a pontoon boat can sink. Luckily, many new pontoon boats have sectioned off toons that will isolate incoming water, keeping them from filling completely.
Discoloration
Another toon issue that's very common is discoloration. Aluminum toons will oxidize in water. If you store the boat at the dock sitting in the water, the toons will oxidize quicker than if you store it on a lift. This is normal and unavoidable. Regularly cleaning of the toons will also keep them looking better longer. You can typically use a power washer or scrub brush, and they will clean up nicely.
Marine Growth
Cleaning marine growth off the toons is critical. This is the build-up that's produced by marine life found in the water such as scum, zebra mussels, and so on. Too much marine growth on the toons can lead to performance loss and will cause you to lose speed while out on the water. Annual cleaning is recommended, and more frequently if the boat sits in the water all season.
Keeping up with regular maintenance will save you the headache of dealing with many common problems. If your pontoon boat is in need of a repair, rebuild, or restoration to improve its appearance, call Anchor Marine Repair. We have over 45 years of combined experience providing repair, renovation and refurbishing of all types, sizes, and styles of boats, including pontoons. Call us for free estimates and consultations at (763) 972-3540.