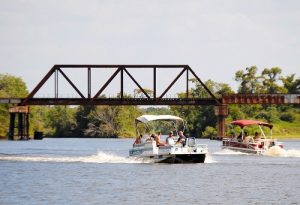 Pontoon boats can be among the most popular ways to relax on the water, as pontoons offer more carrying capacity than any other boat of similar size. This means you can have all your family and friends aboard at one time! It's no wonder that making the decision to buy one can be a little intimidating. There is a vast array of styles and floor plans to choose from and many features that can make choosing the right one for you, a bit overwhelming. Even when you think you've found just the right one, a very common question becomes, "When's the best time to make that purchase?"
To begin narrowing down the field of choices when shopping for a pontoon boat, you must consider several key things. One of the first things to consider is how you want to use the boat (party boat? recreational use? fishing?). Then consider how many people you think you will want onboard for any given outing. This will help determine seating capacities. Following these key decisions, then consider how much travel you expect to do with it, as this affects fuel capacity and horsepower, and then whether you'd want to fish from the boat or use it as a swimming platform. This begins to narrow down your search to the more specific uses of the boat. Next, you'd get into finishes and features.
Pontoon Transportation And Storage Considerations
Pontoons are, as you might imagine, wider than the average boat. You will need a special trailer to be able to tow the boat out of the water. You'll have to ensure that your vehicle is equipped to tow the extra weight. You will also need to consider things like whether you have adequate space to store the boat, whether on your own property or at a storage facility. You will also need to consider whether your dock is of adequate size to moor your boat. If you have a boat lift or covered dock, consider the width of the pontoon boat, as to whether it would fit.
This is perhaps the most popular question. The best time of year to make a purchase is in the off seasons (Fall and Winter months). Sellers need to get rid of inventory in the off-season, so prices are oftentimes slashed. The season, without many buyers, also means that you'll have less pressure to make an instant decision on a boat. To purchase from a dealer, the fall months are better. During the winter months, you're likely to find a better deal at the local boat shows.
Expert Pontoon Structural Repair And Restoration Specialists
Regardless of what model or style of your pontoon, the experts at Anchor Marine Repair can ensure that your purchase looks its absolute best! In fact, many times, Anchor Marine has used pontoon boats available for sale! If you notice any structural damage or would like to restore an older boat to its original state, let Anchor Marine Repair do the work for you! Having many years' experiences, the team is standing by to make your pontoon look wonderful! Call (763) 972-3540 to ask about pontoon sales or to discuss how the team can make your pontoon boat shine!