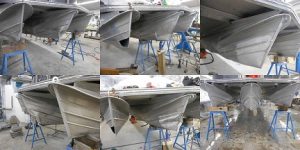 An old joke about boaters says that boats are like holes in the ground for money. Nowadays, however, with today's tough economy few people have money to waste, many boaters want every dollar to count. New pontoon boats can cost upwards of $20,000+ but restoration of an older pontoon boat is possible at a fraction of this amount – as low as 10% of the new price! Most people would rather invest in a well-restored pontoon boat than paying outright for one brand new vessel. If they do decide to buy new, many would rather save up to 15% by investing in one well-restored vessel rather than spending $20,000+ for brand new ones.
Pontoons: Each pontoon should be checked for signs of wear or holes, especially any rust spots; some owners may attempt to cover up imperfections with paint. If you discover a problem, be sure to weld it immediately.
Carpeting: Use a sharp knife to cut the carpet at deck joints and pull strips by hand. You may notice some carpet backing or other residue left behind – this could cause lumps in your new carpet; use a tool with plenty of edge to extract as much as possible. You might come across pieces that are hard to remove with a knife. In these instances, use a heat gun and scraper combination. In extreme cases, you may need to resort to using belt sander or sandpaper. Finally, use plenty of marine glue when cutting new pontoon carpet to the right size.
Furniture: Check the wood frame of any pontoon furniture or seats to make sure it's free from rot. Discard any signs of decay and buy replacements immediately. Additionally, inspect pontoon chairs for damage, wear, fading or rips. Once you identify whether your pontoon chairs or furniture are damaged, you can decide if you want to repair, reupholster, or replace them. Typically, replacing seats is more cost-effective than reupholstering them. Use these measurements to accurately size your pontoon boat before replacing its seat. For maximum comfort, consider changing up your furniture just like you would for a living space upgrade – have fun imagining different configurations and exploring our extensive website for products!
Pay Attention to Details: Pontoon boat restoration requires meticulous attention to every detail, such as possible corrosion of nuts, bolts, and other fasteners. Unsightly signs of corrosion can appear for accessories and hardware made from zinc alloys; these should be replaced with stainless-steel items which are long-lasting, durable, and resistant to corroding.
Customization: Consider what accessories you would like to add to personalize your pontoon boat. You can add a Bimini top, extra space on the table, ladders, and other items from an online shop that suits your boating style perfectly.
Regular maintenance can save you from dealing with common issues. Anchor Marine Repair specializes in pontoon boat repair, rebuilding and restoration – we have over 45 years of combined experience working on repairs for all types, sizes and styles of boats including pontoons! For free consultations and estimates on work done for you, call us at (763) 972-3540 today!