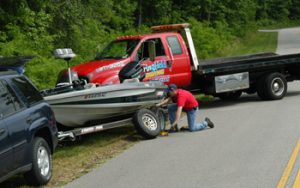 Summer is in full swing and everyone's eager to be on the water. But don't let your crew be in such a rush that they forget important safety precautions. Taking some of these preventative safety measures will help to ensure that you and your riders have a great excursion, free of accidents.
A safe day of boating begins before you ever get near the water. It all starts with planning, packing your needed supplies, a good check list and communicating to someone your plans.
● Know what you're doing: Take an online or local community course in boating safety. While the course is a requirement in some states, insurance companies almost always award discounts for completing boating safety courses.
● Get a free safety check of your boat: The U.S. Coast Guard will perform a free Vessel Safety Check. The safety check is for your education and peace of mind (and there are no penalties if your boat doesn't pass).
● Follow a pre-departure checklist: This includes making sure you have all the necessary safety equipment, and that you thoroughly inspect your boat.
● Let someone know your float plan: Tell a family member, friend and/or someone at the marina your float plan: where you're going, how long you plan to be gone, your itinerary, and how you can be contacted.
While on the water
● Wear your life jacket: It's not enough to just have the jacket on board. Coast Guard statistics indicate that in more than 80% of boating deaths due to drowning, the victims were not wearing a life jacket.
● Abstain from alcohol: Almost half of all boating accidents involve alcohol. Alcohol impairs your balance, judgment, and reaction time. Boating while intoxicated is also a federal offense subject to a $1,000 fine and possibly even more in criminal penalties.
● Use good judgment: Stay alert and steer clear of large vessels that can't maneuver quickly. Operate at a safe speed, and if the weather takes an unexpected turn for the worse, get off the water.
There's nothing quite like a carefree summer day on the water. Get everybody on board with these safety precautions, make sure you have adequate insurance coverage for your boat, and then get out and make some memories!
Insurance-Approved Marine Repair Services In Minnesota
If, in the unfortunate circumstance, a collision does occur (whether you're at-fault or not), trust the expert repair technicians at Anchor Marine Repair to get your collision-damaged boat back in the water as soon as possible. Let us handle everything from pickup to delivery, and everything in between. In the Minneapolis-St. Paul area, give us a call at (763) 972-3540 or contact us online. Consultations and estimates are always free!