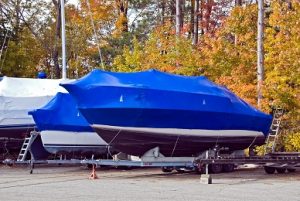 As the temperatures begin to drop and the nights get longer, the fall season begins to settle in. Some boat owners remain out on the water still, while many use this time to bring their boat out of the water and begin to get it ready for winter storage. One of the most popular questions we get as to storage is where to keep it when you're not using it. There are several options, and which you decide upon will likely be based on several factors. Budget, convenience, and availability are some of the main considerations when choosing the storage site. Looking to have you boat shrink wraped and stored? We can handle that for you at an affordable price.
Placing The Boat On A Trailer: This is, by far, the most cost-effective method of storing your boat. Simply pull it out of the water, drive it home, and store the boat on your own property. It remains available to you at any time that you wish to relaunch and go for a ride on the waters. To prepare, however, you must ensure that your trailer is ready to accept the boat. Items such as tire condition, frame/structural shape, and even lighting must all be checked and in good shape to prevent damages.
Use Of Off-Site Dry Stacks; For the smaller watercraft, dry stacks, or rack storage is an option. To use a facility like this, one would simply reserve a pickup time to have your boat picked up and moved to a rack (like a giant bookshelf). If you wished to ride again, you would call the facility again and reverse the order. They retrieve your boat and have it ready at a time that you all decide upon together.
Many boat owners use a local marina and purchase a slip (parking spot) for long-term usage. Typically, a slip is contracted out and controlled by the owner of the marina. While prices vary, the convenience of having a place to park your vehicle safely and securely while you're out on the water and having a designated and reserved parking space for your boat when you come ashore are all great features.
Using The Off-Season To Repair Your Boat
Many people do not fully utilize the off-season months to repair any damages to their boats. Constant use during the summer months can lead to damaged or cracked hulls, wear and tear on fiberglass surfaces, and wear and tear on the vinyl surfaces. Consider allowing the repair and restoration specialists at Anchor Marine Repair to service your boat and ensure it is fully seaworthy for next season. Call (763) 972-3540 to discuss your next repair or renovation project for your boat. Pickup and drop off services are available.