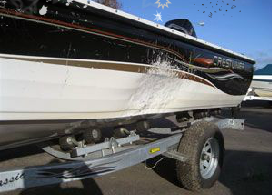 Most boats on the market for purchase are made of either fiberglass or aluminum. The reason for this is that both materials are durable, lightweight, strong, and are very resistant to letting water in. When you own a boat, you of course always want less water inside your boat than outside your boat. Fiberglass and aluminum do a great job of keeping your boat afloat for many years. If you have a damage to your aluminum boat and live or work in the west metro, give us a call.
Aluminum is one of the most popular types of boats and for good reason. Aluminum is essentially elastic. That means that it has the capacity to bend and stretch when it strikes or is struck by other objects. Unless the speed at impact is extreme enough to cause a rupture, it is virtually impossible for aluminum to develop a leak simply because of the impact. While ideally suited to being used to build boats, it is not perfect and can develop problems over time. In the case of aluminum boat construction, impact can damage the integrity of the rivets, which hold the panels of aluminum together. If your boat has been damaged by impact, it is best to play it safe and have it inspected by our team of technicians. Anchor Marine Repair's staff are highly trained to diagnose the extent of damage from impact to aluminum boats.
Aluminum Boat Repair Shop In The West Metro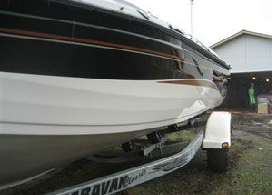 The flexibility of aluminum—which means that it dents when struck, rather than fractures or ruptures—means that your boat can be beaten up without taking on water. An aluminum boat that is heavily dented may lose efficiency as it moves through the water, but it likely will not take on water unless one or more of the impacts damages the integrity of the rivets that keep the component parts of the body together. Most boat owners do not have the training and experience to identify the source of a small leak. Just as it is difficult to locate the source of a leak in your home, it is similarly difficult to locate the source of a leak in your boat. We also do not recommend that you attempt to repair it yourself. Water dynamics make it necessary for proper repairs to be carried out by trained technicians, and most boat owners simply do not have that kind of experience.
The staff of Anchor Marine Repair does have that experience and has a passion for boats and the water. So, if your aluminum boat has been damaged, we can fix it for you so you can get back out on the water quickly. Call us at 763-972-3540 with any questions.