Repairs for Accidents and Storm Damage Repair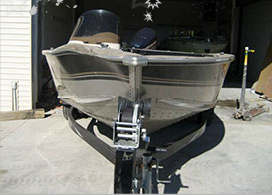 Probably one of the last things you want to think about on a beautiful, sunny day is a Boating Accident. Unfortunately, accidents do happen and that's when you will be glad that you purchased boat insurance. Anchor Marine Repair is there when you need us the most. Our experienced technicians handle all types of Aluminum Boat Repair due to Storm Damage or Accidents. We provide reliable, quality workmanship and have designated as an Insurance Approved Aluminum Boat Repair Company. Let assist with the insurance claims process and work directly with your insurance company from estimate to restoration.
Insurance Claims Repairs for Aluminum Boats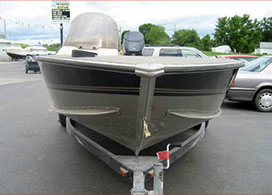 For those boat aluminum boat owners with Boat Insurance, Anchor Marine Repair offers a seamless process to total restoration of your boat. We are an Insurance Approved Aluminum Boat Repair Company with the skills and equipment to ensure fast repair for Accidents or Storm Damage. Popular brands of aluminum boats that we work on include Lund, Crestliner and Alumacraft.
Aluminum Boat Manufacturers
Alumacraft Boats
Alweld Aluminum Boats
Crestliner Boats
G3 Boats
Lowe Aluminum Boats
Lund Aluminum Boats
MasterCraft Aluminum Boats
Munson Aluminum Boats
Northwest Boats
Ranger Aluminum
SeaArk Aluminum Boats
Starcraft Marine
Sylvan Aluminum Boats
Xpress Boats – Aluma-Weld
War Eagle Boats
Weldcraft Marine
Aluminum Boat Repair Services
Aluminum boats are lightweight and durable but they are not immune to damages from hitting an underwater stump, seasonal storm or collision. Each of these scenarios spells trouble for an avid fisherman who loves to spend weekends on the water. At Anchor Marine Repair we are well equipped for repairing all types of damages. Our Insurance Approved Repair Services include:
Professional aluminum boat welding
Dent removal
Repairing cracks or holes around rivets
Boat motor repair
Aluminum boat floor repair
Prop repair
Stern drive repair
Marine re-upholstery
Carpet replacement
Painting services
Insurance Approved Aluminum Boat Repair Company
Anchor Marine Repair should be one of the first calls you make if your aluminum boat has been damaged. We have a state-of-the-art facility that can handle all types of Boat Repair Work. Contact us for Top Quality interior and exterior storm damage restorations as well as Boat Collision Repair for accidents. Anchor Marine Repair has been Insurance Approved to complete aluminum boat repair services. We provide seamless restoration services from estimate to completion.
Call Anchor Marine Repair today for a Free Estimate and Expert Consultation on Aluminum Boat Repair Services at 763-972-3540