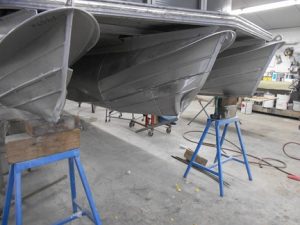 At Anchor Marine Repair in Minnesota, we are fully aware that accidents happen. If you own a boat, then you can only assume it's a matter of time. Whether your boat was damaged in a bad storm, hit while you were pulling it on the road or an accident occurred while in the water, boat insurance is always a good thing to have. At Anchor Marine Repair, we have a combined experience of over 45 years in boating repairs. We are talented, innovative, resourceful and honest. For these reasons, we are a company that both you and your insurance company can rely on. If you are looking for a quality repair company that is accepted by boating insurance in Minnesota, Anchor Marine Repair is your one-stop shop for all of your boating repair needs.
Timely Boat Collision Repairs
Right now in 2020, boating is one of the few things that we can enjoy without having to worry about close social contact. So, when your watercraft is damaged and out of commission, it can feel defeating. At Anchor Marine Repair, we understand urgency. Our relationship with insurance companies makes it easy to quickly and efficiently perform the repairs in a timely manner so that you can get back out on the water!
Boat Insurance Repairs in MN
When your boat is damaged, you want it repaired right. At Anchor Marine Repair, we never do anything halfway. We are dedicated to restoring your boat to better than pre-accident condition. We do this by utilizing knowledge, skill and resources. We have the finest boat repair products available for our skilled technicians. We stay current in all technologies and techniques that make your repairs higher quality and even more affordable. We also offer pick-up and delivery to your home or docking area. We are more than equipped and capable of handling your damaged boat with resources at our fingertips to get the job done right.
Avoid Insurance Nightmares
We have all heard about boating insurance nightmares after an accident. For most of us, boating is about recreation and relaxation. Even a damaged boat should not have to be stressful. At Anchor Marine Repair, we will work directly with insurance companies to guarantee the best repair possible. We will discuss your boat's problems and then work quickly to get them looking and functioning better than ever so you can get back on the water in no time at all.
For more information about boat insurance repairs in Minnesota, give your local experts at Anchor Marine Repair a call today at 763-972-3540 or send us an email at service@anchormarinerepair.com.