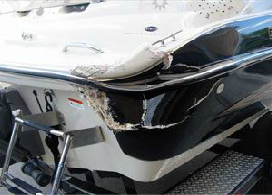 Out on the water, many boaters have the luxury of owning a fiberglass boat. There are so many benefits to fiberglass vessels, it's hard to pick the best. Generally, fiberglass boats weigh more. For this reason, they are known for being more stable than aluminum boats. For example, when the wind picks up, a fiberglass boat would tend to drift slower and more predictable than an aluminum one. In general, fiberglass offers more comfort as well, in terms of stability and noise. So what happens when the unthinkable happens and your fiberglass boat gets into an accident? Can this strong, durable material be mended, repaired and restored? At Anchor Marine Repair, we are here to help with all of your fiberglass boat repairs and restorations.
Finding A Crack In Your Fiberglass Boat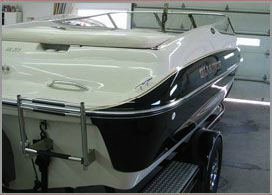 When you notice a crack in your fiberglass, it can be one of two things: completely cosmetical or completely dangerous. If it is the latter, a simple crack in your fiberglass could severely degrade your boat's ability to stay afloat. Therefore, it's incredibly important to give that crack the respect and attention it deserves by letting it be seen by a professional. At Anchor Marine Repair, we will check to see if the crack goes any deeper than the gelcoat. The damage to your vessel will range after that. We have seen repairs that only need a quick patch and ones that have also done some major damage that affected the overall shape of the surface. Either way, we are happy to repair and restore your fiberglass boat in a professional and efficient manner.
State of the Art Marine Repair Facility
At Anchor Marine Repair, we have been repairing fiberglass boats for several years. With over 45 years of combined experience in repair, renovation and refurbishing, your boat will be in good hands. Our boat technicians are experts at what they do, examining the damage, studying the structure of the boat and repairing the problem, thus restoring your boat to better than pre-accident condition. With a state-of-the-art facility and professionals that love what they do, you'll be back on the water in no time.
If you have what looks to be a crack in your fiberglass boat, don't take it out on the water and gamble both your safety and investment. Instead, bring your boat into Anchor Marine Repair for a free estimate and consultation. For more information about our services and our fiberglass boat repairs, give us a call today at (763) 972-3540 or email service@anchormarinerepair.com