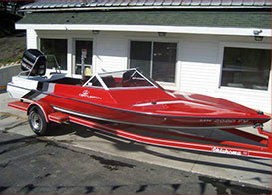 As the sun sets on another memorable boating season, it's time to shift gears and prepare your beloved vessel for the impending winter. One of the most critical aspects of this transition is performing a thorough damage assessment on your boat. At Anchor Marine Repair in Delano, MN, we understand the significance of this crucial step in maintaining your boat's longevity and ensuring a smooth start to the next boating season. In this blog post, we'll explore the essential process of damage assessment and why it should be an integral part of your end-of-season routine. After all…if something is wrong with your boat, now is the best time to find out.
The Starting Point: Cleaning and Inspection
Before delving into the winterization process, commence with a comprehensive cleaning and inspection. Here's what you should focus on:
● Exterior Cleaning: Remove all debris, dirt, or algae from the boat's exterior, including the hull, deck, and all visible components. Proper cleaning will help prevent staining and corrosion during the winter months.
● Interior Cleaning: Ensure the interior is immaculate and free from personal items or perishable goods.
● Damage Assessment: A meticulous inspection forms the core of effective boat care. Thoroughly examine the hull, deck, hardware, and other structural components. Seek out signs of damage, such as cracks, dings, loose fasteners, or any other issues that may warrant repair.
Strengthening Your Boat's Structural Integrity
Damage assessment is not just about identifying problems; it's about maintaining your boat's structural integrity. Timely identification and repair are essential for a smooth transition to the next season. Let's explore the key points:
● Cracks and Dings: Small cracks and dings can quickly escalate into major issues if left unattended. Addressing them now will prevent further deterioration over the winter.
● Fasteners and Hardware: Loose or damaged fasteners and hardware can lead to leaks, structural problems, or even dangerous situations. Thoroughly inspect and address any issues.
● Hull and Deck Damage: Assess the hull and deck for any damage, including delamination, punctures, or stress cracks. Repairing these issues promptly is vital to your boat's structural integrity.
Why Boat Damage Assessment Matters
Addressing damage at the end of the season is essential for several reasons:
● Safety: Ensuring your boat is in top condition is paramount for your safety and the safety of your passengers.
● Cost Savings: Early detection and repair are cost-effective. What may be a minor issue today could turn into a major expense if left unattended.
● Longevity: Regular damage assessment and repair extend the lifespan of your boat and preserve its value.
At Anchor Marine Repair, we understand the significance of thorough damage assessment and timely boat repairs. If you have identified any issues during your end-of-season assessment, or if you suspect damage that needs professional attention, we are here to assist. Let us help you safeguard your boat's structural integrity, address damage promptly, and ensure your vessel is ready for the next boating season. Your investment and your safety are our top priorities!