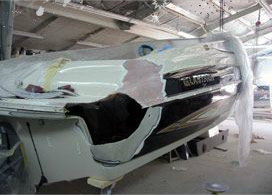 There are many joys of owning a boat, but it can be stressful too. After a long winter, it is understandable that boat owners will anxiously await the coming spring, which means they can get their boats out on the water again. But if you put your boat away for the winter and did not realize that it needed a repair, you may worry that the joy of getting back out on the water may be delayed. Anchor Marine Repair can repair your fiberglass boat without delaying your first outing this spring! Or if you experience an accident during the season. Anchor Marine Repair will give you a quick turn around and get you out enjoying your boat again.
Fiberglass Boat Repair Shop in Minnesota
Fiberglass boats are extremely durable, but they can also develop everything from minor blistering to major structural damage caused by colliding with an immovable object. All boat owners know the experience of taking a turn too sharply or coming into a dock too fast, with the result being a chip, dent, scratch, or even a tear of the fiberglass. Our staff are experienced and have worked hard to obtain the expertise to fix your boat correctly the first time so that you minimize the time spent in the shop and maximize the time spent on the water.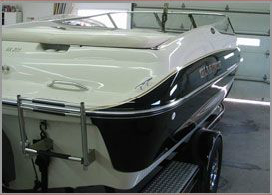 Fiberglass boats are a popular choice for boat owners in large part because the material is so strong and durable. However, no material can withstand an impact and/or an abrasion. If there were a material that could stand up to all forces in the water, the US Navy would not need shipyards. But just as the US Navy needs shipyards to repair its many ships, so too do recreational boat owners. Even at rest, your boat is subject to the forces of nature. In storage, with a cover on top of it, your boat still experiences the frigid overnight temperatures of a Minnesota winter. When you get your fiberglass boat out on the water, the forces are understandably stronger. If your boat strikes an object in the water, even at low speeds, you could find yourself in need of repairs.
Free Fiberglass Repair Estimate
If you have been putting off getting your fiberglass boat repaired, we recommend not waiting too long. There may be plenty of winter weather left for us, but it will not last forever. When that first warm weekend day arrives, you will want to be sure that your boat is in the condition it needs to be in for you to get out on the water. Anchor Marine Repair offers free estimates, and we offer a pickup and delivery service to make your repair experience as easy as possible. Call us at 763-972-3540 or email us at service@anchormarinerepair.com to speak to a member of our fiberglass repair team.