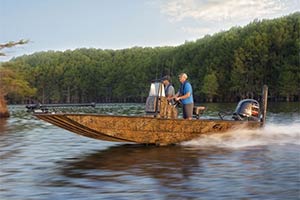 A leaking boat is no mere annoyance. Every crack, tear, split seam, or missing rivet can put you one step closer to a sinking vessel. Left unattended, minor damage can lead to a major headache. Not to worry though – you can usually handle small leaks yourself before they spiral out of control. When you need the professionals to step in, call Anchor Marine Repair for all your repair and refinishing work.
Boat leaks are typically first noticed below the water line. In the lowest section of the boat — known as the bilge — water may seep in and accumulate each time you launch, despite a secured plug. At this point, load your boat onto a trailer to commence a visual inspection.
Hull Examination
With the boat sitting on a trailer, begin a visual examination, carefully looking for obvious signs of wear and tear. For instance, aluminum boats utilize rivets. As they loosen or age, they become a common source for water seepage. If that's the problem, you can remove the old rivet by grinding off the head or drilling it out. Be sure to take extra care to avoid enlarging the hole.
This tip is for small boats only (like canoes or aluminum boats). A visual examination may not be enough to reveal every leak source. Consequently, you cannot afford to launch again before identifying and fixing each problem. Fill the base of the boat with a couple of inches of water. Use a waterproof pen to mark areas that require repair. This will only work for leaks on the lowest part of the boat, as the weight of the water may exceed the trailer weight capacity.
Repair Preparation
With each problem area identified, release the drain plug, and then elevate the bow. Wait one or two days to allow the boat to thoroughly dry. Whether your boat is aluminum or fiberglass, clean the area under repair before starting your work. Never use a scouring pad or wire brush on fiberglass, but you may use these tools on aluminum.
Time and tide wait for no man, and both will gradually take a toll on your boat. As for more difficult tasks, such as structural repairs, you'll want to leave that work to the professionals. Anchor Marine Repair ranks #1 in collision repair for a reason. Our staff is experienced and knowledgeable and can repair many types of boats including aluminum and fiberglass. Our facility offers 10,000 square feet of workspace and two spray booths, so you will get your boat back as quickly as possible. Before you put your boat away for the season, let us fix any dents, scratches, gouges, and holes. Call us at (763) 972-3540 for a free estimate.