Have a pontoon boat in Blaine, MN that needs Repair? We can help!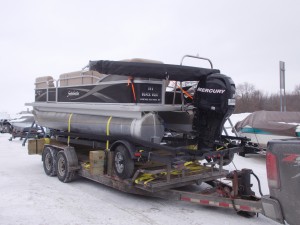 Pontoon Boats are one of the favorites in Minnesota, and with new developments there are a variety of options for pontoons that are designed to fit all of your needs. Pontoons are now seen with larger engines and designed to move quickly through the water, while others are leisurely boats made to enjoy the scenery as you pass by, especially down all those scenic Minnesota rivers. Pontoons are so comfy they are almost like relaxing in a floating living room with the couches, lounges, kitchen sinks, and sometimes even come equipped with a slide for all to enjoy.
Pontoon Repair-Blaine, MN
Engine Maintenance is very important; but, with a Pontoon Boat, there are many other issues to consider. One area that is often overlooked is small leaks in the pontoons. You don't necessarily have to hit a submerged stump, log or other object in the water to cause a leak in your pontoons. Just general use will often cause small leaks.
Pontoons that have water in them will increase the weight of your boat and put an extra load on your engine causing reduced performance and increased fuel consumption.It is a good idea to have your pontoons check every couple of years. If you notice that one pontoon sits lower in the water than the other pontoon, you can be sure there is water in that pontoon that needs to be removed.
Locating and fixing leaking pontoons takes specialized equipment and needs to be done by a service company. Specialized aluminum welding techniques will be required to weld the specific area/areas on the pontoon that are leaking.
Insurance Covered Boats Repair, MN
If your pontoon boat is in need of timely, correct repair or restoration, Anchor Marine is the best place to come. Anchor Marine Repair has a two building facility located very close to Lake Minnetonka, MN, with more than 10,000 square feet of space to complete insurance covered repairs.
Boat Repair Pick-up, Blaine, MN
The best call you can make is the one made to Anchor Marine Repair. We have over 45 years of combined experience providing repair, renovation and refurbishing of all types, sizes, and styles of boats, including pontoons. For more information or to schedule a time for the Anchor Marine Repair team to come pick up your boat, call 763-972-3540.